BCD For Scuba Diving
BCD For Scuba Diving
Which style is right for you? When it comes to choosing the right BCD, lots of factors will affect your decision. You'll want to consider how much to spend, which type of BCD goes best with your diving style, how much weight you carry, where you want the jacket's air to sit on your body, and even your body type. Every diver knows that when it comes to diving, every single piece equipment is extremely important to the entire dive
Underwater, a BCD helps you obtain a neutral buoyancy while diving, which allows you to safely explore the ocean's depths and its wonders. More than that, the BCD will make going back to the surface almost effortless. Let's take a look at what our scuba experts at Leisure Pro have in store for you.
Cressi Travelight BCD
This is a lightweight version of a traditional BCD jacket, which means it's easy to pack it down into a very small carrying bag. Cressi replaced the traditional stainless steel D-ring with a light alloy one, all to help reduce that extra travel weight. Don't be fooled by the lack of weight; you can still support a full integrated weight system with the trim pockets. The Travelight also offers rear kidney and right shoulder pull dumps and a flexible padded back with two cylinder cam bands. This provides great back protection and cylinder security while still giving you the option to quickly fold the BCD and pack it away.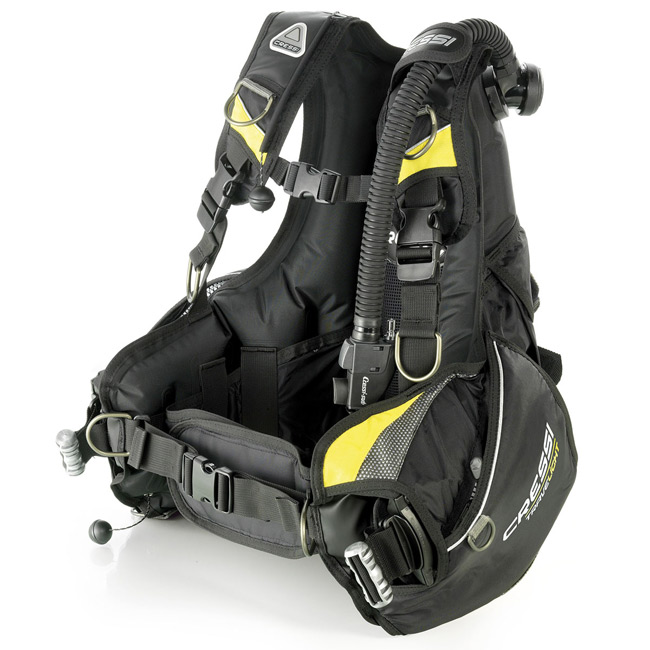 BCD For Scuba Diving
If you're flying to warm water locations, this is the BC for you. Yes it is pricey and yes it is worth it. Things I love: 1) Packs into an impossibly small size weighing only a little over 5 lbs! 2) The integrated weight system is secure and very easy to use. 3) Very large and easily accessible pockets with plenty of room for everything I may want to bring along BCD For Scuba Diving.