Cressi
Cressi Fast 5mm Wetsuit mens
Cressi Fast 5mm Wetsuit mens
Stylish, warm and versatile, the Cressi Fast 5mm Mens Wetsuit can be used in the widest range of temperate and cold waters. Durable 5 mm, double-lined neoprene, stands up well to compression at depth for maximum heat retention.
Pre-shaped legs improve flexibility for easier kicking. Neck with anatomic design, preformed at 120 degrees in the neck area for maximum comfort. New sleeves in double-lined neoprene for great durability.
The closure of the wetsuit presents a noticeable improvement of the design that reduces the entry of water at this critical point. The closure flap is now much wider and the nape area is prolonged to prevent infiltration when the neck is tilted underwater. YKK back zip with under zip lining and water-stop system. Anti-abrasion reinforcement on the knees.
Knee and shoulder area with Tatex® anti-wear elastic reinforcements. This type of reinforcement does not limit the elasticity of the neoprene, provides sufficient reinforcement and facilitates the positioning of the suit.
5mm of neoprene is enough for most divers in the warmer months in southern Australian waters, and the colder months of northern Australia you can use it all year round. When the water temperature drops you can layer up with undergarments, or switch to a 7 mm or Drysuit.
Cressi Fast Wetsuit 5 mm Mens Features
One-piece 5 mm wetsuit in double lined neoprene
Ultraspan neoprene on arms and calves
Pre-shaped legs
YKK Back Zip with under zip lining and water-stop system
Anti-abrasion reinforcement on the knees
Water Temperature: 10-18 degrees C
CE Certification EN 14225-1: B
2 Year Warranty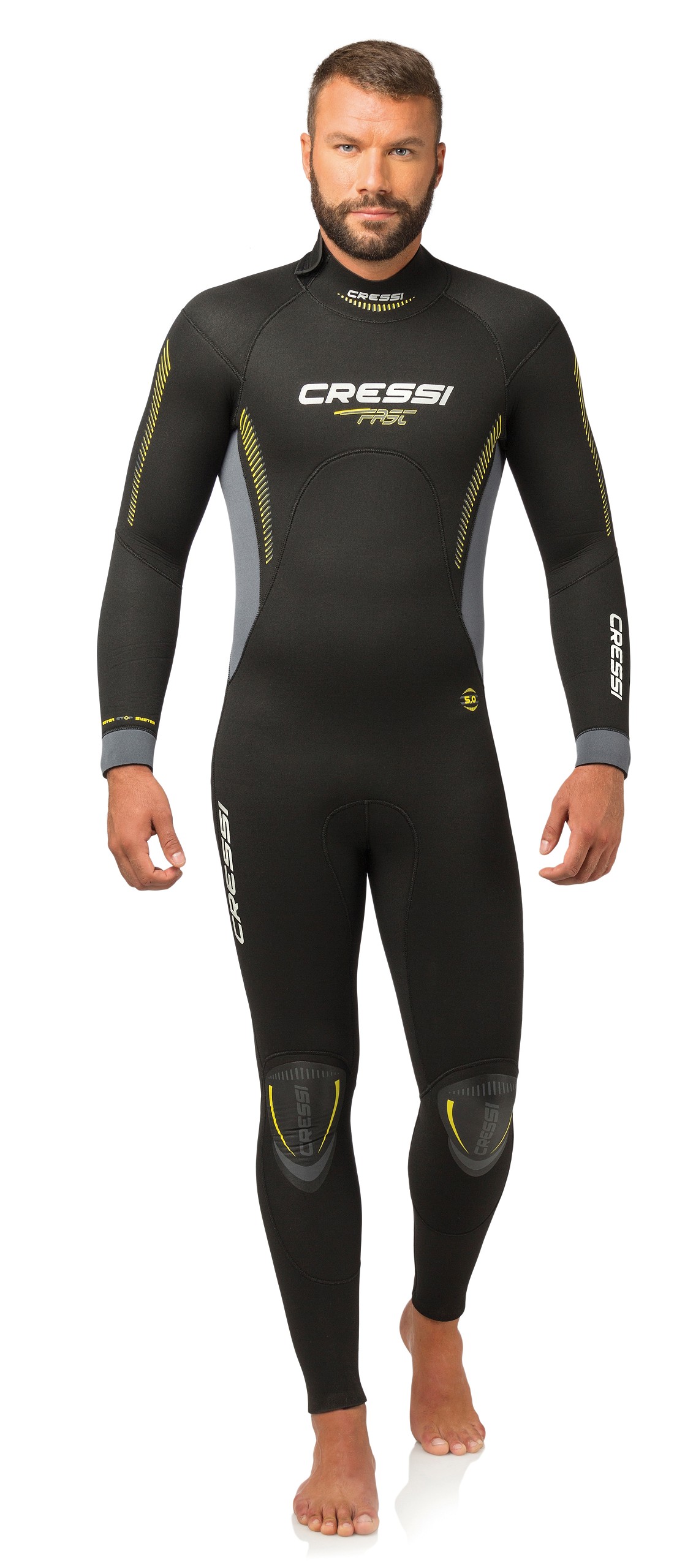 Cressi Fast 5mm Wetsuit mens