Gear Aid Anti-fog Spray
The 15 ml (1/2 fl oz) pack of Gear Aid (formerly McNett) Sea Quick Anti-Fog Spray is the fast way to prevent annoying fog on dive masks, swim goggles, ski goggles, sunglasses, paintball goggles, face shields, and more. It keeps your diving mask, swim or ski goggles, fog free throughout your adventure.
Gear Aid Sea Quick Anti-Fog Spray is easy to use. Just one quick spray, buff or rinse that is all it takes for long-lasting anti-fog protection. It is proven to be long-lasting, and it is concentrated enough, so you only need to use a little amount. It is non-abrasive, and safe for all lenses and optics.
This biodegradable and non-toxic spray performs well in extremely cold and water. Whether you are diving underwater, or flying over the snow, the McNett Sea Quick Anti-Fog Spray 15 ml (1/2 fl oz) pack will enable you to see everything around you.
Features:
High performance anti-fog spray
All-purpose formula for masks, goggles and eyewear
Easy-to-Use, Non-Toxic Formula
Alcohol free and non-abrasive
Biodegradable Formula is Safe for All-Lenses and Optics
Safe for All Glass and Plastic Lenses
Designed for Maximum Dive Mask Defogging and Quick, Easy, In-Field Application
Performs Well in Extremely Cold Water
For a Crystal Clear, Properly Defogged Mask
Convenient 15 ml (1/2 fl oz) Pump Spray Applicator
For Use On: swim goggles, ski goggles, sunglasses, paintball goggles, face shields and more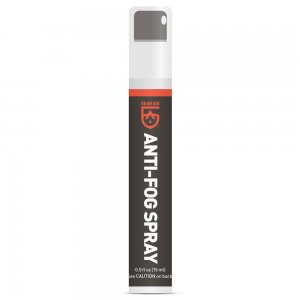 Gear Aid Anti-Fog Spray