Yeti Tundra Coolers Corner Chocks
Yeti Tundra Coolers Corner Chocks
Secure your YETI® with our Yeti Tundra Coolers Corner Chocks. Rubber provides excellent, non-abrasive support and can withstand years of wear and sun exposure. 
Kit includes: 
4 rubber Corner Chocks. 
2 marine grade bungees. 
Stainless steel mounting hardware. 
Fits: All Tundra series coolers except Tundra 210 and Tundra 350.
 
ONLY AVAILABLE IN STORE, PLEASE CALL TO ORGANIZE PICK UP.
Yeti Tundra Coolers Corner Chocks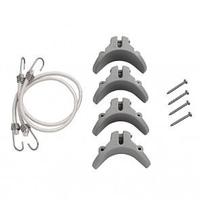 Yeti Tundra Coolers Corner Chocks