Cressi
Cressi Alpha Ultra Dry Snorkel
Cressi Alpha Ultra Dry Snorkel
Alpha Ultra Dry snorkel allows users to take every breath with confidence and focus on the reef below.
Features a float mechanism which closes instantly to prevent water from entering the snorkel whether accidentally or purposely submerged
Flexible lower bore reduces jaw fatigue
Mouthpiece drops away when not in use--great for scuba divers
High-quality silicone mouthpiece is comfortable and durable
Angled mouthpiece reduces jaw fatigue
Lower purge valve allows water to be quickly expelled
Streamlined design reduces drag while swimming
Adjustable clip for securing to any mask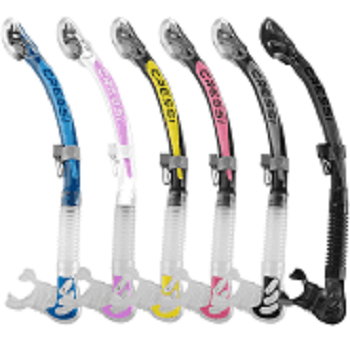 Cressi Alpha Ultra Dry Snorkel
Scuba divers use simple snorkels whilst on the surface to conserve the compressed air in their cylinders. ... Rescue divers can use a simple snorkel instead of mouth to mouth rescue breaths for an easy way to keep their airway clear and deliver air on the surface.
If you're shore diving and have a long swim from your entry point, using a snorkel means you won't waste air from the tank, and makes the swim far more comfortable. ... with the Cressi Alpha Ultra Dry Snorkel If you must wait for a boat pickup, or swim to the boat when diving in rough conditions, a snorkel is useful.