Cressi
Cressi Aquaride Lady BCD
Cressi Aquaride Lady BCD
Of the models for travelling and those for professional use this jacket has intermediate characteristics including a good sized sack, a simplified harness and the use of a material that is light yet at the same time very strong. 
It has a Lock Aid quick release weight container system

Aquaride is the perfect jacket for the recreational diver who does not want to forego a full range of accessories and good buoyancy volume but does not want to reach the limits of professional models.
The shape of the sack favours the distribution of air on the side areas, offering a very natural trim.
Two generous zip up pockets allow stowing of even bulky accessories.
On the back of the jacket two lead pockets allow for perfect distribution of the weights between these pockets and the integrated Lock Aid weight system.
The two-piece back panel is rigid with generous padding.

The wide range of accessories includes: a fully adjustable elasticated waistband, a comfortable padded back, a full range of D-rings and snap-hooks for holding accessories and the rear release valve brought to the front.
Features:
Great buoyancy. Due to the waist-length design and larger wings, it is extremely hydrodynamic
Material: 420 denier nylon
2 generous zip up pockets for accessories
Integrated Lock Aid weight System
2 rear weight pockets
Cressi traditional two-piece back panel
Adjustable elasticated waistband that is not joined to the sack
3 air release valves
4 stainless steel rings for carrying accessories
2 snap-lock rings
Buoyancy kg: 8.2 kg (XS), 9.2 kg (S), 13.3 kg (M), 16.3 kg (L) 19.4 kg (XL)
Buoyancy Newton: 80 N (XS), 90 N 8S), 130 N (M), 160 N (L), 190 N (XL)
Buoyancy Lbs: 18.0 (XS), 20.2 Lbs (S), 29.2 Lbs (M), 36.0 Lbs (L), 42.7 Lbs (XL)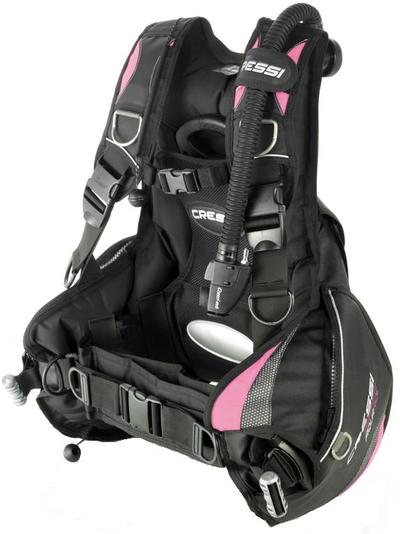 Cressi Aquaride Lady BCD