Cressi
Cressi Marea Mask Combo Set
Cressi Marea Mask Combo Set
Is great for snorkelling and diving. It's got features that make it great for use both in the shallows and in deeper dives. The mask is constructed of high quality soft 100% silicon. This moulds to your face to give you a great fit and at the same time is super comfortable. Unlike cheaper masks, you can barely feel the silicon on your skin. In the silicon skirt two high quality glass lens provide extra wide crystal clear viewing. The mask strap is also silicon. It features fast fit as well as micro-adjustment and articulation. This means the buckles swivel to match the position of the strap on your head. So you can get the fit absolutely perfect greatly reducing the chance of leakage. The snorkel has a number of it's own great features.
The mouthpiece is soft silicon so it's super comfy in your mouth. The mouthpiece also swivels ensuring you don't feel any unnatural tugging or discomfort while it's in use. The base of the snorkel features a purge valve to easily flush out any water that enters.
Cressi Marea Mask Combo Set Comfort Maximised
A corrugated flexi section attaches the mouthpiece to the snorkel upright further enhancing comfort by reducing the chance that the snorkel will be pulled uncomfortably up against your face. The top of the snorkel has it own Splash Guard to prevent water getting in. The Marea VIP provides a high quality snorkelling experience.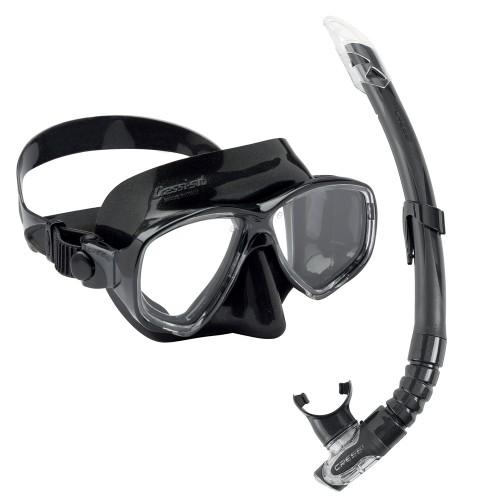 Cressi Marea Mask Combo Set