Cressi
Cressi Onda Mare Snorkel Combo Set
Cressi Onda Mare - Mask & Snorkel Combo Set
Cressi Onda Mare Snorkel Combo set is a great solution for beginner and intermediate snorkelers. This set includes the comfortable Cressi Onda Mare mask to help you see clearly underwater. It's paired up with the Mexico snorkel with a wave guard that prevents water from entering into the breathing passage. Get ready to take the plunge!
The Onda is single tempered glass lens mask which ensure a wide view to enjoy the underwater nature. It is made with 100% high quality silicone for ensure comfort and perfect seal of the most part of faces. The buckles are easy-to-use for adjust the strap length.
The Mexico snorkel features a wave guard on top to limit the entry of water on the tube. The mouthpiece is made in silicone to ensure comfort.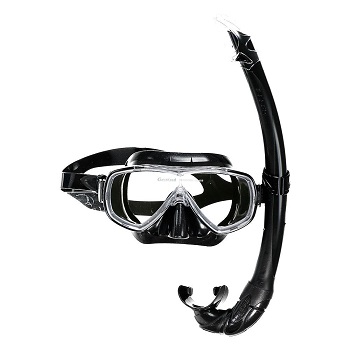 Cressi Onda Mare Snorkel Combo
Onda Dive Mask Features:
100% sIlicone skirt and strap
Wide view single lens
Single tempered glass lens
Quick-release strap buckles
Mexico Snorkel Features:
100% silicone mouthpiece
Wave guard on top
Cressi Onda Mare Snorkel Combo