Cressi
Cressi Perla Dive Mask
Cressi Perla Dive Mask
A mask particularly suitable for free diving and snorkeling, but just as appropriate for use in scuba diving.
It has separate lenses, a skirt edge that adapts to most faces and a small inner volume, perfect for free-divers.
It is made from soft transparent or dark silicone, and comes with strong rapid action buckles to adjust the strap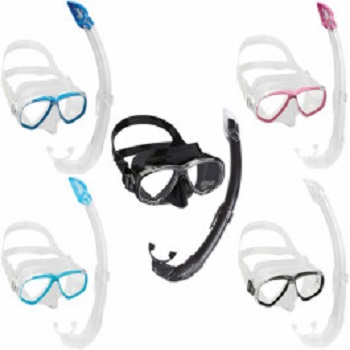 Cressi Perla Dive Mask
2 Window
Tempered Glass
Micrometric Adjustable Buckle
The best scuba masks are comfortable and have a good field of vision. They should make it easy for the diver to pinch his or her nose to equalize, and they should be easily cleared of water without a lot of effort.
How much does a good scuba mask cost?
These options (and a range of color schemes) are a matter of personal preference--just make sure the mask you choose fits right. Cost - From $50 to $200. Our Advice - Clear or light-colored mask skirts let more light in and are generally more comfortable for new divers
While breathing we produce carbon dioxide. ... If you breathe in used air full of CO2 leads to headache, dizziness, and unconsciousness. CO2 can build up in wrong-designed normal snorkel tubes too… This problem can occur not only with full face masks, having the wrong equipment can always lead to dangerous situations so Cressi Perla Dive Mask is a good choice.