Cressi S300 BCD
A new professional model with a large volume of air and a collapsible bag for an extra buoyancy reserve. It is provided with an efficient elasticated restraint system for the bag and a larger version of the Lock Aid quick weight release system.
In the Cressi jacket range the S300 is the top of the range model of all those with traditional bags, that is, with the provision of air volumes equally divided between the sides and the back.
To further increase buoyancy and make it suitable for any type of dive, an extra air pocket has been added in the back-lumbar area of the jacket. It has a special elastic restraint which, in addition to reducing the dimensions of the bag, accelerates deflation.
The chosen material is a strong 420 denier Nylon which combines excellent resistance to wear with a decidedly low weight.
The weight carrying system is the famous Cressi L.A.S (Lock Aid System), which foresees the possibility of inserting all the weight in the two weight carrying pockets. On this model the size of the pockets depends on the size of the jacket and they are larger on the larger sizes (M, L, XL), with the possibility of inserting up to 7 kg of weights in each pocket.
Two large accessory pockets with zip fastening allow for the storage of even quite large objects, like, for example, an exploration spotlight.
Features:
Material: 420 denier nylon
Bag restraint system that has a restraining elastic element
Rigid, padded back support panel
Adjustable elasticated strap, separate from the bag
Chest harnessing
2 large accessory pockets
Lock Aid quick weight release system.
2 vertical weight pockets positioned on the back
3 air relief valves
4 accessory rings in stainless steel
2 snap hook rings
Buoyancy: 9.7 kg (XS), 11.7 kg (S), 17.9 kg (M), 20.4 kg (L), 23.5 (XL)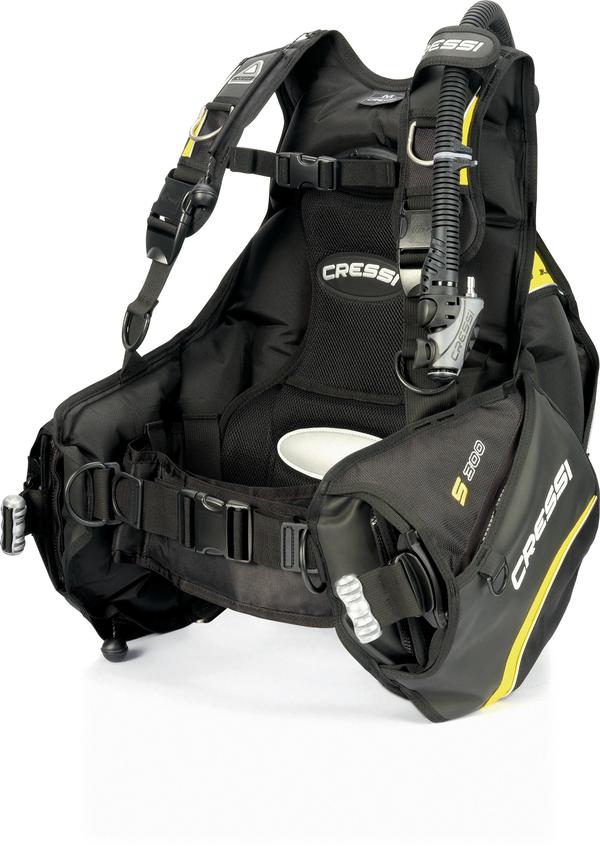 Cressi S300 BCD