Cressi
Cressi Safety 111R BCD
Cressi Safety 111R BCD
Like the J111R, the S111R is a unique product that combines the performance features of semi-back inflation with the comfort of a adjustable BCD.
A fully weight integrated BCD, the J111R incorporates a self-expanding gusseted bladder that offers increased buoyancy around the tank, allowing for proper buoyancy control while swimming. Cressi-sub's unique C-Trim Weight System is utilized allowing for proper weight distribution along with easy weight ejection.
Top of the range in the series that comes with traditional inflator.
The new 500 denier Colorlock Cordura material is used for the bag, being very strong but light at the same time.
Large bladder is separate from the harnessing and is designed to give the greatest freedom of movement, large zip-up gusset pockets,
2 C-Trim System weight pockets with extractable bags (that hold up to 5 kg each), 4 rear weight pockets with Fastex closure, stretch cummerbund and lots of accessories. 
Features: 
Bladder material: 500 denier cordura Colorlock – 420 denier nylon
Large volume contoured bladder with self-adjusting Marine Balance System
New backpack
Large accessory pockets
New large capacity C-Trim Weight System
Bag with large volume of air, freed from the harnessing 
Lower adjustable stretch strap 
Length adjustable stretch waistband, separate from bag 
Stretch waistband 
Rings to tighten and loosen the waist strap during dives
Shoulder straps separate from bag and length adjustable 
Backpack and inner side pockets padded with Softflex 
Stretch and adjustable chest harness 
3 Deflation and pressure relief valves 
2 large zip-up gusset accessories pockets 
2 C-Trim System weight pockets with removable bags (each one holds 5 kg) 
4 rear weight pockets, with Fastex closing 
Four 50-mm D-rings (angled) on the shoulders, two 50-mm D-rings on the bottom side, two 30-mm D-rings on the front (all made from satin-polished stainless steel) 
Knife holder insert 
Material: Colour Lock 500 denier Cordura and 420 denier nylon
Sizes: XS, S, M, L, XL 
Buoyancy in Newton: 100 (XS), 120 (S), 190 (M), 200 (L), 210 (XL) 
Buoyancy in kg: 10.2 (XS), 12.2 (S), 19.4 (M), 20.4 (L), 21.4 (XL) (*)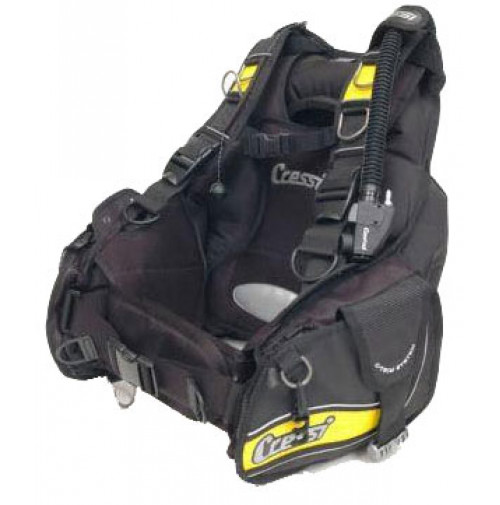 Cressi Safety 111R BCD