Cyanea Mask
The Oceanic Cyanea Mask is one of the latest masks from Oceanic that offers fantastic vision with it's unique shape. A great comfortable mask on the face with a new style of elastic strap. This mask is ideal for the medium to wide faces, it will fit narrow faces but recommended to test the fit.
Features
The Cyanea Mask has ultra clear liquid silicone to make it one of the most comfortable masks to fit.
Superior ultra-clear optical glass gives perfect vision through the mask.
Wide field of vision – up, down and side to side.
Trouble free buckles.
Double feathered edge super-soft liquid silicone skirt with stability ridges.
Chlorine resistant elastic ski-goggle style strap provides secure fit and comfort.
Micro frame construction.
Integrated snorkel keeper.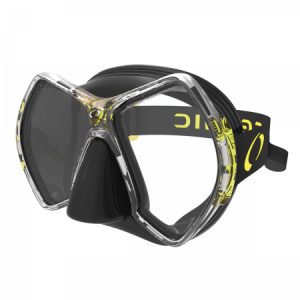 The Oceanic Cyanea Mask is a newer mask on the market and this particular one has something that all of our others mask do not have. Oceanic has put a unique ski-goggle style elastic mask strap in place of the standard silicone strap. This is a huge plus and makes your diving that little more comfortable. Most of you will know how it feels when the silicone strap grips and pulls your hair, guys and girls say this all the time. With the new elastic style strap, this will not happen as it does not pull at your hair and sits comfortably on the back of your head without slipping.
The Oceanic Cyanea Mask has a extremely large wide field of vision which allows your peripheral vision to be wider also with its 100% tempered glass lens. Instead of having side clips, the Cyanea's new strap is adjusted along the strap with a cool new adjusting slider. Made with 100% silicone, this mask fits majority of faces, however keep in mind that it is a little on the larger side, so those smaller thin faces probable will not suit this mask.
Cyanea Mask