Oceanic Hera BCD
The Oceanic Hera BCD is a female specific designed jacket that is shaped for the female body with a more contoured fit around the hips and chest. The shoulder straps have a patented adjustable positioning system that allow for a perfect fit each and every time. It is an extremely comfortable fit with extra padding and lower lumbar suport and has that female look to it with a small splash of colour. Having adjustments in all areas including the shoulder straps, chest strap and the elastic cummerbund you can be sure that when you put this BCD on, you will be supprised by its comfort level. 
The Hera has all metal stainless steel D-rings which is fantastic for those divers who like to clip bits and pieces on to their BCD and oversized deep zip pockets for storing your safety sausage, torch or dive slate in. The hera is made from a 1000D denier cordura fabric that is durable and strong, being proven to last the test of time. There are two dump valves for a quick release including one bottom right at the read of the jacket and one on your right shoulder. The corrogated inflator hose sits over your left shoulder held securely in place by a velcro tab. 
It is equipped with intergrated weight pockets and small non-dumpable 5lb pockets in the rear which are positioned in the lower part for better upright body efficiency at the surface. The front weight pockets and held in place with a quick release positive locking system and are easy to put in and pull out if needed to do so in an emergency. Getting rid of that horrible old webbing weight belt makes a huge difference with comfort as you no longer have to tighten it as you go down or have to worry about it spinning. With the inter grated weight pockets there is a layer of padding between you and the lead. 
Product Features
Designed for females
Contoured shape
Maximum padding
Full inflation style
Hybrid bladder
5lb non-dumpable weight pockets
2 x 10lb weight integrated pockets
Large zip pockets
Multi-position shoulder straps
Adjustable chest strap
4 x stainless steel D-rings
1000D denier cordura
Corrugated inflator hose
2 Dump valves
Elastic cummerbund
Adjustable waist strap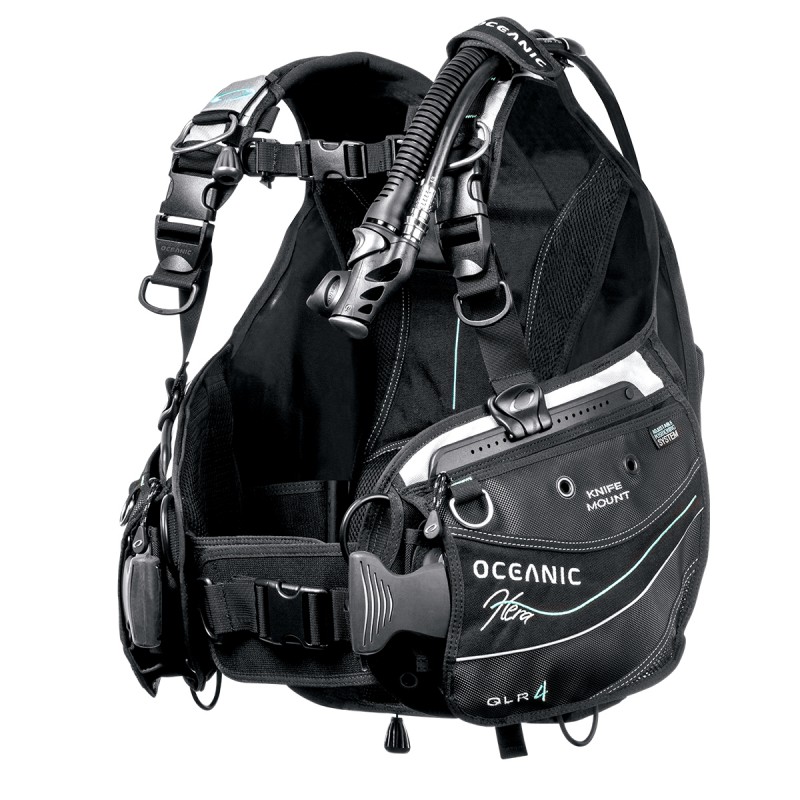 Oceanic Hera BCD
Care Instructions:
Wash thoroughly after every use
Soak for 10-20 minutes
Do not use harsh chemicals to clean
Do not leave in direct sunlight
Inflate the BCD a small amount when storing to allow air flow
Once dry, store in a dive bag or dive tub