Ocean Hunter
Ocean Hunter Shadow Knife
Ocean Hunter Shadow Knife
The Ocean Hunter Shadow Knife is the ultimate spearfishing knife which has been specifically designed so you can quickly dispatch your fish. The blade of the knife is manufactured from 420 marine grade stainless steel for strength, sharpness and good rust resistance.
The Shadow Knife is very sharp making penetration into larger pelagic fish super quick and easy. The multi edged blade features a sleek, low profile design as well as a quick pull lanyard so you can always quickly access the knife when needed most.
This knife includes special key lock holes manufactured directly into the handle which not only lighten the blade but also serve a special purpose. Should you have a spear shaft get stuck in reef or coral you can insert the back of the spear shaft into the appropriate sized hole and use it as a key lock to create a handle to apply additional leverage to the spear shaft. This is a major advantage as it makes removing a spear shaft significantly easier to achieve.
Furthermore if you're using a cluster head for spearing, and you accidentally hit a rock in the water with it, you can also use the key lock holes to re-straighten the imperfections in the bent cluster head prongs whilst your out in the water without having to return to shore. These clever additions to the blade ensure you'll spend more time hunting when your out in the water and not being delayed with problems.
The Ocean Hunter Shadow Knife can be easily mounted onto the spearos arm, leg or belt for quick and easy access when dispatching your fish in a timely manner. The Shadow Knife features an extremely sharp 9 cm dagger style blade which has been designed for deep penetration through bone and flesh.
The Ocean Hunter Shadow Knife is designed to be there for you when you need it most and is designed to be quick and easy to access when needed. The Shadow Knife includes a sharp serrated section on the back of the blade which makes it ideal for use when laying out your next burley trail.
This knife comes with a durable, low profile webbing sheath, two rubber leg straps and two Velcro straps to make mounting the knife quick and easy.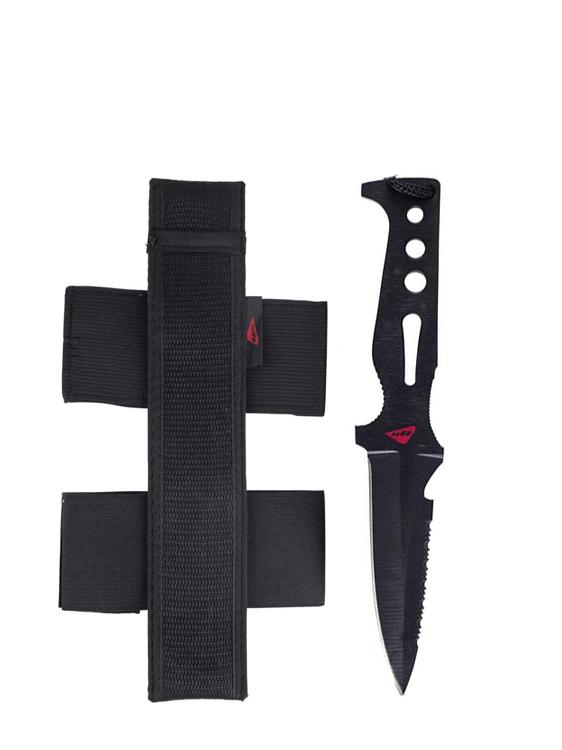 Ocean Hunter Shadow Knife