Mares
Mares Cruise Dry Bag
 Mares Cruise Dry Bag
Ultralight is made of reinforced materials, heat-sealed seams and a quick-release closure system. It is an excellent waterproof bag for your trips.
Features:
- Reinforced lightweight polyester
- Quick closure system
- Welded seams
- Fully waterproof
- Excellent for water sports
- Ideal for outdoor activities
- Available in three different sizes
- SVHC free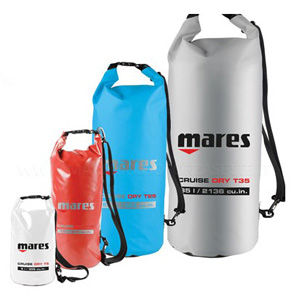 The Mares Cruise Dry Bag is a fully waterproof sack, ideal for keeping your clothing and equipment dry while out on the boat. They are also excellent for water sports and outdoor activities such as hiking, fishing and kayaking. Made with a sturdy 500D Tarpaulin with an adjustable strap for carrying and a quick closure system, this bag is the ultimate in waterproof bags. When scuba diving, the bag can not be taken down with you, even though it is waterproof, going down, the bag will compress and expand which it is not suitable for. However, if you are doing other watersport activities, kayaking, jet skiing and snorkeling, the bags can go in the water with you. Available in 4 sizes which are color coded. Make sure you close the bag correctly before taking it near the water.
Mares Cruise Dry Bag