Mares
Mares Hybrid MRS.plus She Dives BCD
Hybrid She Dives
AVAILABLE NOW IN LIMITED QUANTITIES FROM YOUR PARTICIPATING MARES DEALER!
What do you get when you combine a special cut dedicated to the female body, seamless shoulder straps detachable from the aircell, soft yet durable materials and overall light weight? Mares Hybrid MRS.plus She Dives BCD
The ideal buoyancy compensator for female divers! Add exclusive styling, Trim Weight pouches integrated in the back pack and the MRS+ weight integration system and you are one step away from becoming a mermaid!
Form and function
 
• Special cut dedicated to the female body
• Seamless shoulder straps for unprecedented comfort
• MRS+ weight integration and BPI Trim Weights


Features:
 
ERGO INFLATOR: The standard inflation and deflation control unit on Mares BCs, the ERGO inflator has been designed according to ergonomic guidelines.
Intuitive to use and offers maximum grip.
TRIM WEIGHT: Two pockets in the back of the BC meant for non-ditchable weights which provide a better trim.
Each pocket holds 2.5kg/5.5lbs, and is secured with a quick release buckle plus velcro.
MRS PLUS: Optimal ballast with a mechanical release system.
A simple click ensures easy and secure storage of the weight pockets.
A single outward pull on the oversized handle releases the weights.
Maximum load 6kg/13lbs. Velcro interior divides the pocket into multiple sections (M, L, XL).
FOLDABLE BACKPACK: Maximizes the blend of comfort, lightness, and size.
Thanks to the grip provided by the rubber in contact with the tank, when open it ensures the unparalleled stability and comfort of a long backpack, but when folded it's 30% shorter than a traditional backpack.
The honeycomb structure makes it 40% lighter than a traditional backpack.
OVERPRESSURE FLAT VALVE: In view of the ongoing development of its products, in its search for perfection in optimizing the weight of spaces, Mares has developed its new overpressure valves. New geometries and a new design for an astounding result.
Just 22 mm high, 30% less than in the past.
QUICK-PAK SYSTEM: Innovation in compacting and transporting the BC.
With a few quick moves, you can compact your BC to its minimum dimensions (45x30x30cm).
Once closed, the BC will be better protected and can be easily stored in a closet or transported in a small travel backpack.
Hybrid system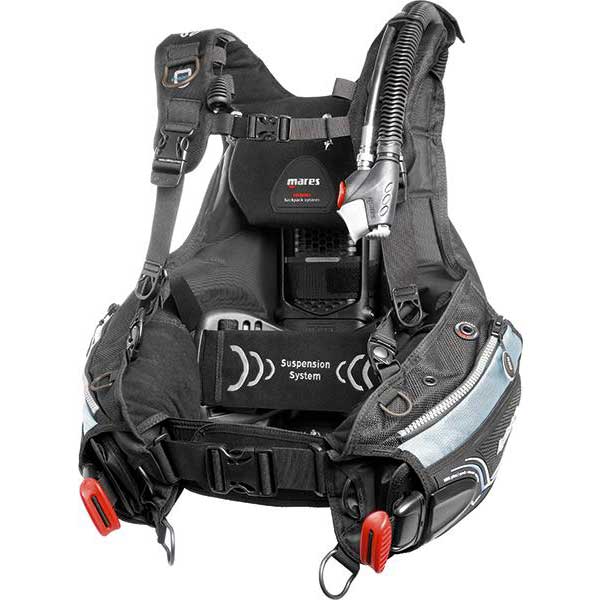 Mares Hybrid MRS.plus She Dives BCD