Mares
Mares Mask Snorkel Combo
Mares Wahoo Mask Snorkel Combo
Mares Mask Snorkel Combo Combines the ever popular Mares Wahoo mask, with a flexible snorkel.
Underwater activities require good equipment. A good mask and snorkel are vital to experience the beauty underwater.
The Mares Wahoo mask has a soft silicone skirt with EZ adjust buckles suitable for a wide variety of face shapes, giving a comfortable and snug fit. Durable construction and wide viewing angles, this mask will be your constant diving and snorkelling companion.
Check out How To Choose a Mask for help choosing your ideal mask.
Mares Mask Snorkel Combo
There are a bunch of things to consider when you're getting new equipment and durability. The most important thing that you're looking for out of those factors is fit. Without a proper fit the mask will leak, the seal will be bad, and/or you'll be uncomfortable. The best way to ensure a proper fit and seal on a snorkeling mask is with a silicone skirt.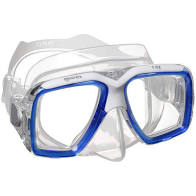 Mares Wahoo Mask Snorkel Combo
Silicone skirt - this enhances comfort and reduces the marks left behind on the face and superior face seal.
Great range of visibility - this mask offers a great wide angle vision.
EZ Adjust Buckles - a system of buckles exclusive to Aquazone which allow quick and easy adjustment of mask straps.
Tempered Glass Lens - durable construction mask.
Lightweight and unique design.
Mares Snorkel
Ergonomic design
Comfortable mouthpiece
flexible lower section
Years ago, Mares Mask Snorkel Combo snorkel mask skirts were made of black or dark plastic. This has a more claustrophobic feel and keeps a lot of the sunlight out of the mask for easier vision. Silicone, when first introduced to the snorkeling and SCUBA mask world was cloudy but still allowed more light than plastic. Over time, the silicone got "cleaner" and less cloudy.
Mares Wahoo Mask Snorkel Combo