Mares Octopus Loop
The Mares Loop Octopus Second Stage is a vertical regulator design that can be mounted on the divers right or left, providing the ultimate freedom of movement with under the shoulder hose positioning.
This second stage octopus is a mid-sized techno-polymer second stage regulator with its simple, yet reliable downstream demand valve design. The Mares Loop's integrated Sagittal Vortex Assisted Design (S-VAD) system creates a swirling vortex with a low-pressure area in the center of the regulator that keeps the diagram down during inhalation, for very sensitive and easy breathing at all depths. The Loop also has twin exhaust valves for ease of exhalation and oversized silicone rubber purge button for easy clearing of regulator.
The Mares Loop Octopus Regulator comes with a yellow 3/8" threaded low pressure hose, and weighs 374 g (13.3 oz) including the hose. Hose and purge cover are bright yellow for easy identification in out of air situations.
Features:
Unique Vertical Hose Connection
Mid-Size Stylish Second Stage
integrated Sagittal Vortex Assisted Design (S-VAD) System
Reliable Downstream Demand Valve Design
Comfortable Silicone Mouthpiece
Techno-Polymer Construction
Twin Exhaust Valves for Ease of Exhalation
Oversized Silicone Rubber Purge Button for Easy Clearing of Regulator
Hose: 3/8" Thread
Yellow Hose and Purge Cover for Easy ID in Out of Air Situation
Weight w/Hose: 374 g (13.3 oz)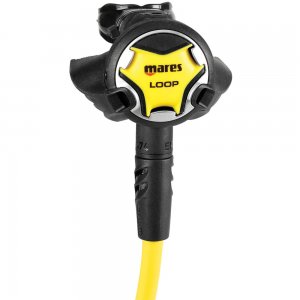 Mares Octopus Loop