Mares
Mares Pioneer 5mm She Dives Wetsuit
Mares Pioneer 5mm She Dives Wetsuit
The Pioneer 5mm She Dives women's wetsuit is a temperate water wetsuit made of Neoprene & Ultrastretch Neoprene that provides convenience, ease of donning and comfort. The design is now more modern with red coloured neoprene panels for the women's Pioneer 5mm She Dives. An additional feature is the cap hook on the leg. Pioneer's hood also uses a design that optimises air compression and release in the ear and top areas.
The New Mares Pioneer 5mm She Dives wetsuit has had an upgrade and the new 2015 model is now with a rear zipper rather than the old style that had a front zipper. This feature has been changed due to the fact the many divers found the front zipper harder to get on and off, especially if they did not have any flexibility in their shoulders. It is a great all rounder suit for any time of the year. The Pioneer 5mm She Dives Wetsuit is specifically designed to contour a women's shape. This 5mm suit comes equipped with knee and shoulder protection and a free hood. The Mares Pioneer 5mm have a GlideSkin surface on the inside of the ankle and wrist cuffs which is made from a sort of rubber that grips to the skin allowing no water to penetrate through. Your suit must fit your perfectly for this to happen. This particular suit's zip in extra long allowing it to be easier to get on and off. The hood that comes with the Pioneer is a 5mm hood and perfect for winter diving. Having the same GlideSkin surface on the seal of the hood allows this to keep you extra warm.
Features:
Customisable anti-friction closure
Hood exhaust system facilitates air release, optimising compression and comfort
New neck closure with anti-abrasion strap to prevent damage to the wetsuit
Wrists with non-slip panels for better grip on the equipment
D-ring hood on the right leg
Knee pads made of anti-abrasive material"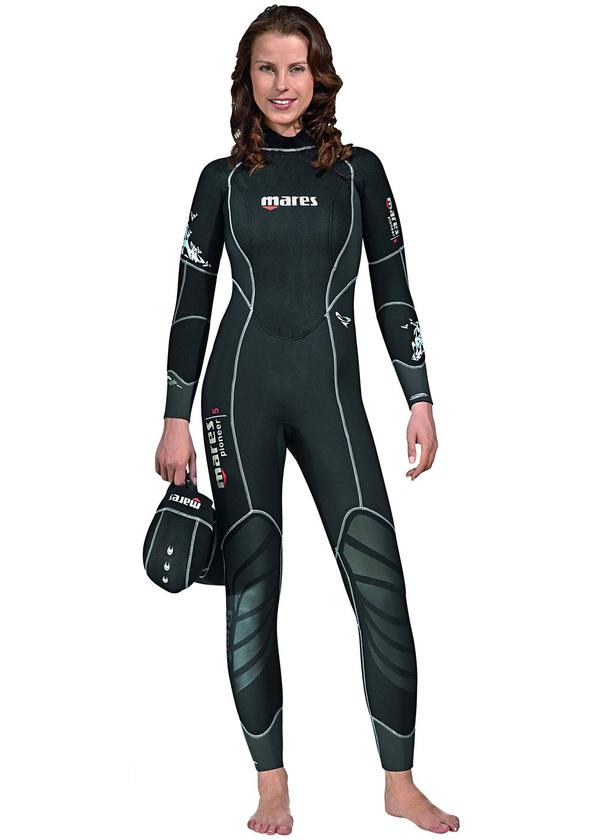 Mares Pioneer 5mm She Dives Wetsuit