Mares
Mares Sten Mini 42 w Holster
Mares Sten Mini 42 w Holster
The name Sten is known all around the world.
This pneumatic speargun is universally appreciated by all spearfishermen for its accuracy, power, and reliability. 13-mm internal barrel.

Ergonomic grip, hydrodynamic muzzle. When used with 8-mm diameter shafts, it will meet the needs of fishermen looking for great power and reliability.
42CM barrel length.
The Mares Mini Sten pneumatic speargun is reliable and maneuverable. It's ergonomic grip and lightweight design makes this mini pneumatic speargun a popular item among spearos.
The Mares Mini Sten pneumatic speargun is well known and appreciated by spearfishing fanatics. It provides its stopping power with an 8mm shaft in an economical package. The shaft is hardened steel and includes a removable dual barbed spear tip. With its ergonomic handle and hydrodynamic head, this gun provides great maneuverability and reliability.
This Mini Sten pneumatic speargun is operational with only 60 pump strokes, 10 bars, and can take up to 240 pump stokes, 30 bars. Size: 45cm (18in) x 8mm (3in), Overall 60cm (22.65)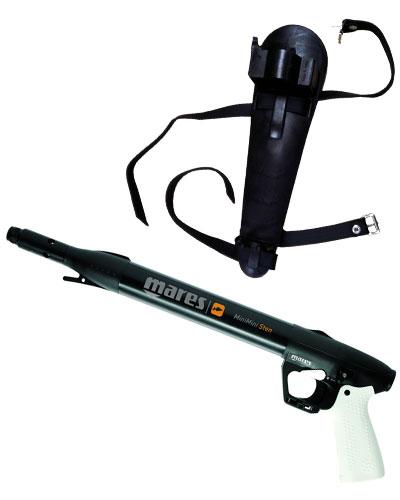 Mares Sten Mini 42 w Holster