Ocean Hunter
Ocean Hunter Phantom Mask & Snorkel Set
Ocean Hunter Phantom Mask & Snorkel Set
The Ocean Hunter Phantom Mask and Snorkel Set is designed for the serious spearo on a budget. The set has been designed with the all of the dedicated features that you would expect on a premium expensive mask and snorkel set. The spearfishing or freediving Ocean Hunter Phantom Mask has an excellent seal and truly gives the diver the ultimate in low profile internal dimensions. The light and compact Ocean Hunter Phantom Snorkel includes a soft silicone mouthpiece for your comfort.
The Ocean Hunter Phantom Mask is very comfortable to wear and has a superb field of view. It is constructed from super soft hypo-allergenic black silicone and the skirt is moulded directly onto the mask frame, guaranteeing low volume and extreme comfort.
Phantom Mask Features:
Super soft silicone
Matt black satin finish silicone
Low internal volume
Soft mount, easy adjustable buckles
Comes with handy protective travel case
Matt black satin finish mask, low volume and easy adjusted. Put on and forget. Enough said.
The Ocean Hunter Phantom Snorkel is designed to streamline around the divers head, thus minimising vibration and drag in the water. Because this snorkel is manufactured from a highly flexible material it will flex and give should it accidentally become entangled on your shooting line. This is also an important advantage for divers who chase crays under reefs because your snorkel can't "jam under" and trap you.
Snorkel Features:
Wide bore J snorkel
Soft silicone mouthpiece
Ergonomically shaped for optimal mouthpiece angle
Simi-flex barrel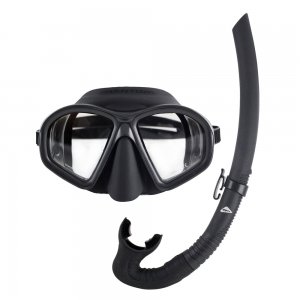 Ocean Hunter Phantom Mask & Snorkel Set