Ocean Pro
Ocean Pro Bondi MSF set
Ocean Pro Bondi MSF set
High quality youth Mask, Snorkel and Fin set, featuring a comfortable black silicone mask with tangle free adjustable strap to make fitting simple and avoid painful tangles in the hair. Purge snorkel with splash guard top minimises water ingress making learning to snorkel a breeze for the kids. Multi-fit open fin sizing allows for the growing foot with the unique Oceanpro sustainable packaging design to minimise impact on our oceans.
Features:
Performance multi-fit snorkelling fin
Soft Silicone Bungee strap with quick release buckle
Silicone snorkel with splash guard top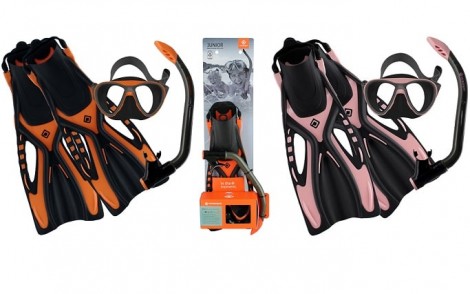 The Ocean Pro Bondi Mask, Snorkel and Fins Set is ideal for those wanting one with the lot. The Bondi Youth Set includes all you'll need to get into the water straight away and start having fun snorkelling and freediving. The outstanding feature of this set is its compact design which easily allows it to fit into a standard back-pack for easy traveling to your next tropical holiday location. This Set provides you with top quality equipment, without breaking your wallet, and will provide many years of happiness and enjoyment in the underwater world.
The Ocean Pro Bondi Mask is designed for Youth faces and it offers a huge degree of visibility and comfort thanks to its soft and comfortable design. The high grade 100% liquid silicone mask skirt is comfortable to wear on the face and extremely easy to adjust thanks to the elastic soft touch mask strap. Featuring dual Tempered Glass lenses for crystal clear vision and a double seal silicone skirt design, the Bondi provides an excellent dry seal, not only keeping water out, but providing maximum comfort for all day use.
The Bondi Snorkel is feature packed with all of the premium features that you'd expect on a high end scuba diving snorkel. Manufactured from 100% liquid silicone, it includes a fully flexible, corrugated silicone hose and a beautifully soft, silicone mouthpiece designed for maximum comfort. The replaceable mouthpiece is fitted to the base of the snorkel with an easy to clear purge valve and up top is a protective splash guard designed to reduce water from entering the barrel. An integrated snorkel keeper is also included to securely attach the snorkel to the mask.
Taking care of business in the propulsion department are the Ocean Pro Bondi Fins which are fully adjustable to ensure they always give you the perfect fit. These hard wearing open heel fins are designed for maximum thrust and performance in the water allowing you to effortless gliding along on your adventures. The use of thermo rubber foot pockets provides maximum comfort and avoids any chaffing or rubbing issues so you can easily kick all day. Whilst the open heel design also makes sharing the fins with other divers with different feet sizes easy. 
The Ocean Pro Bondi Mask, Snorkel and Fins Set is ideal for beginner to intermediate snorkellers and freedivers
Ocean Pro Bondi MSF set