Ocean Vu Mask
The Oceanic VU Mask is made from 100% silicone with tempered glass and a durable frame that is designed for scuba diving. Its unique shape frame allows for maximum vision giving you the best peripheral vision when diving or snorkelling. The quick and easy adjusting buckles are super durable and will last a life time with the correct care. The 100% silicone skirt and tempered lenses make this mask a great choice when choosing one as it is extremely durable and you can be assured that its quality.
Features:
High-performance Crystal-Clear silicone providing remarkable transparency, improved fit & comfort.
UltraClear tempered glass lenses.
SureFitTM Buckle Tensioning System evenly distributes the tension exerted by the strap over a firmer silicone band for support, maximizing seal and comfort.
Quick adjusting sliding buckles allow simple, fine adjustments and release of the strap.
Works with Corrective Optical Lenses from -1.5 to -6 Diopters in 0.5 increments.
Textured and easy to squeeze nose pocket allows one handed equalization.
Rubberized frame inserts improve grip to aid clearing.
Ultra light weight and low internal volume for dramatically improved field of vision – up, down and side-to-side.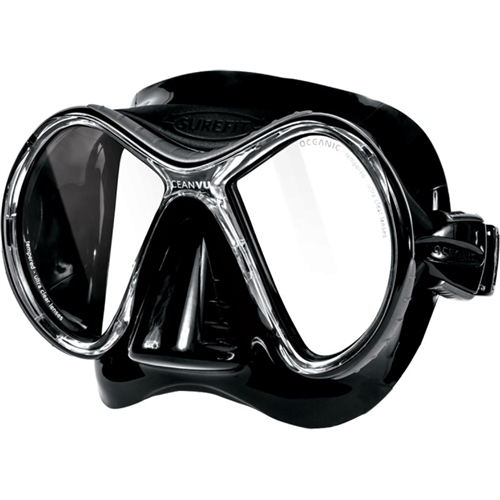 Ocean Vu Mask