Ocean Hunter
Ocean Hunter Heavy Duty Catch Bag
Ocean Hunter Heavy Duty Catch Bag
Ocean Hunter's Heavy Duty Catch Bag has been built extra strong to carry large amounts of catch, such as fish or crayfish (also known as lobsters or crays). It is made from an extremely durable construction.
The bag can be folded and clipped to shorten the bag, when you don't need as much space or for storage purposes. This bag further features a spring loaded opening, so you can operate it with one hand only, leaving your other hand free to handle your catch.
This bag provides an enormous capacity and can be folded and clipped to shorten the bag for when you don't need the additional space.
This bag is ideal for one handed operation, when your other hand is clutching onto that thrashing big crayfish. We have found this bag to be an absolute must have item for the serious crayfish diver because not only does it make putting the crayfish into your bag easier, the strong spring mechanism ensures that the little critters can't work their way out of your bag after they've been caught. In addition to this, the bag features a durable full length zip along the bottom of the bag which makes the job of emptying it at the end of the dive so much easier, particularly if you are carrying shellfish such as scallops. The bag also comes with a handy and convenient Velcro pocket located on the outside of the bag for carrying additional kit like measuring devices or torches.
The Ocean Hunter Heavy Duty Catch Catch Bag also includes comfortable rubber roller mounted hand grips for extra comfort when operating the spring mechanism. An attachment D-ring makes carrying the bag secure, and a handy quick release buckle keeps the bag smaller and compact when it's not in use. This handy feature will also improve your streamlining underwater by minimising the drag.
The Ocean Hunter Heavy Duty Gear Bag also makes a great gear bag to carry all of your extra kit like mask, snorkel and fins down to the dive boat whilst also keeping it all together.
Features:
Spring opening mechanism and frame is manufactured from high grade stainless steel construction for long life
Spring loaded snap closure for easy one handed operation
Spring mechanism eliminates possibility of your catch getting out of the bag once caught
Handle includes rubber roller mounted sleeves for maximum grip and ease of use even when wearing thick neoprene gloves
Mesh drainage bottom makes it easier to lift the bag out of the water and handed back up to the boat at the end of your dive
Durable full length zip along the bottom of the bag makes emptying your catch so much easier
Handy Velcro pocket is ideal for carrying spares or additional measuring devices
Quick release buckle for compact storage and improved underwater streamlining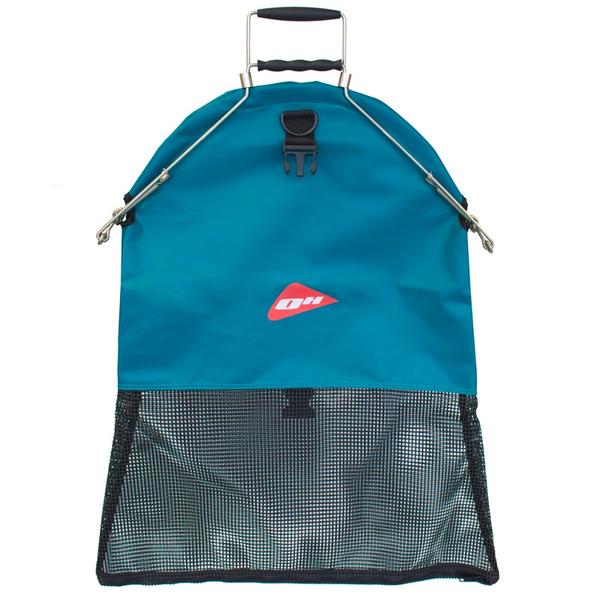 Ocean Hunter Heavy Duty Catch Bag