Ocean Pro
Ocean Pro Orbit Shortie
Ocean Pro Orbit Shortie
The O'Pro Orbit Mens Shortie is a 3mm neoprene wetsuit with short sleeves and short legs also known as a spring suit. This wetsuit is perfect for summer time scuba diving, snorkeling or any watersports and will keep you warmer for longer whilst in the water. Even in summer, after being in the water for a few hours you can still get cold and cutting your day short is something that no one wants to do. The Orbit shortie will allow you to stay in the water all day if needed. Sunburn is something else that this wetsuit will prevent and we all know that covering up in the sun is super important, why not kill two birds with one stone and wear a shortie this year when out and about doing watersports. It has a rear zipper which makes it easy to get in and out of and comes in female sizes.
Features
3mm Thickness
Short arms and short legs
Spring suit style
Male sizing
Rear Zipper
Easy to get on and off
Perfect for warmth or sun protection
Ocean Pro Orbit Shortie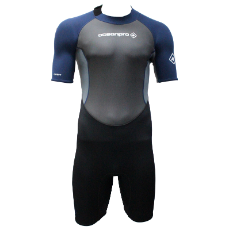 Care Instructions
After every use, you will need to clean your wetsuit to get rid of the sea salt and sand. If it is not cleaned correctly it will deteriorate and the zipper could seize up due to the sand. The sooner after your dive, then better. Try not leave it a few days before you get around to doing it. A great way is to fill the bath tub up when you get home from your dive, add the wetsuit wash and your wetsuit and give it a through clean. Hang on a wetsuit hanger to drip dry ready for your next dive. Do not leave in the direct sunlight, this will fade the suit very quickly.
Ocean Pro Orbit Shortie