PowerDive Double Deck Snorkel
PowerDive Double Deck Snorkel
Whilst the Power Dive single person Deck Snorkel Hookah affords boat owners easy access to their hull and running gear for emergencies and maintenance chores, the Double Deck Snorkel literally doubles the functionality and fun of your Power Dive unit. You can now buddy dive under your boat for your maintenance chores or recreational dive with family and friends to 6 metres (or solo dive to 12 metres) from your boat, dinghy or inflatable.
Dive time with the Double Deck Snorkel is only limited by the size of the battery you choose to connect to. A standard 100 amp hour battery will last up to four hours, however, if you have means of charging batteries on board your boat you will have unlimited dive time.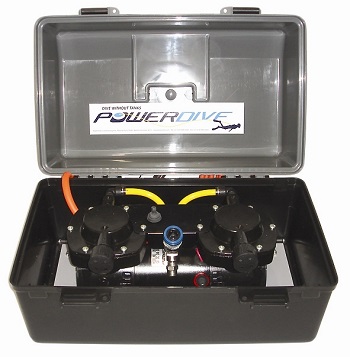 PowerDive Double Deck Snorkel
The complete package includes:
Double Deck Snorkel Compressor Unit
1 x Air Reservoir
2 x Regulators with Dive Harness
1 x Gear Bag
1 x 5m Power Cable with clips
6m (pump to reservoir)
6m (reservoir to Y-piece)
6m (Y-piece to diver 1)
6m (Y-piece to diver 2)
Specifications
Number of divers: One or Two
 Maximum depth: 1 diver to 12M (39.6FT)
 2 divers to 6M (19.8FT)
 Setup time: 2 - 3 minutes
 Operating amps: 24 amp
 Operating voltage: 12 V
 Compressor: 4 cfm
 Operating pressure: 25 psi
 Weight: 18kg including hoses and accessories
All Power Dive hookah units are:
Light, compact and portable
Necessary equipment for emergency detangles, retrievals or repairs
The ideal money-saving accessory for cleaning below the waterline, improving performance, lowering fuel consumption and extending the frequency between slipping your boat.
Perfect for resort diving
PowerDive Double Deck Snorkel units range from deck mounted and free-floating units and are available in electric. Electric units are more suited to families and fun, whilst petrol units are for more commercial applications.