Powerdive Power Snorkel Hookah
Powerdive Power Snorkel Hookah 
Powerdive Power Snorkel - If you like snorkelling, you'll just love Power Diving! With Power Dive's free-floating Power Snorkel Hookah, you can buddy dive to 6 metres with family and friends for more than an hour on the 35 a/h battery. There are no tanks to carry, wear or refill and, after your dive, simply recharge or exchange the battery and do it all again!
In the Power Snorkel Hookah, the pump and motor are housed in a floating surround which enables the Power Snorkel to float above with the divers below. With the Power Snorkel you can dive from the shore or your vessel.
Powerdive Power Snorkel
The Power Snorkel is fantastic in any resort style diving operation. Just the sheer appearance and concept of Power Dive attracts people to the product. It's bright appearance and dive flag, makes it easy to see where the divers are at all time. Training is minimal and inexperienced divers can be diving in minutes.
Powerdive Power Snorkel Hookah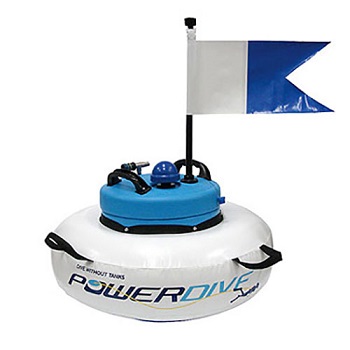 Specifications:
Number of divers: One or Two
Maximum depth: 1 diver to 12M (39.6FT)
2 divers to 6M (19.8FT)
Setup time: 2 - 3 minutes
Dive duration: 50 - 70 minutes
Operating amps: 12 amp
Operating voltage: 12 V
Compressor: 4 cfm
Operating pressure: 25 psi
Weight: 35 kg (including hoses and battery)
About Power Dive:
Power Dive was established in 1997 and is now regarded as the most advanced manufacture of Surface Supply Diving Systems (formally known as hookah diving). Power Dive has lead the way in innovating products for this market that clearly exists between snorkelling and the complete freedom of scuba dive. The technology in Hookah diving has come a long way from steel helmets and cumbersome dive suits. With the Power Dive system, even first time divers can be underwater in minutes!
Power Dive´s range of hookah diving systems are ideal for safe, fun, family diving, they are also the perfect tool for:

All Power Dive hookah units are:
Powerdive Power Snorkel Hookah units range from deck mounted and free-floating units and are available in electric and petrol form. Electric units are more suited to families and fun, whilst petrol units are for more commercial applications.