Dive & Fish
Riffe 3.5mm Vortex Camo Wetsuit
Riffe 3.5mm Vortex Camo Wetsuit
SLIP INTO THE VORTEX
Slip into stealth mode with our Vortex wetsuit, the latest in RIFFE's distinguished digital camo collection. Open cell eco-friendly Yamamoto 39 Neoprene fits like a second skin. Designed for functionality, warmth and comfort. Glued and blind stitched seams offer maximum heat retention. Dive deeper and stay longer in the Vortex. 
Open cell eco-friendly Yamamoto 39 Neoprene
Glued & blind stitched seams
Hooded Top with Twin Locking Clips at beavertail
Abrasion resistant elbow protection
High Waist Pant with abrasion resistant knee protection
Smooth skin seals around face, wrist and ankle
Slip resistant, cushioned loading chest pad
Vented hood promotes excess air release
Riffe 3.5mm Vortex Camo Wetsuit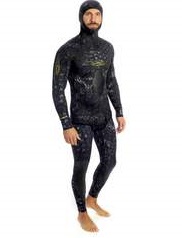 Riffe 3.5mm Vortex Camo Wetsuit
New imitative design that replicates the sea floor created using high resolution photographs selected by the team among many options, light distorted to combine camouflage and aesthetic elegance.
Dark green tones ideal for dark areas with Mediterranean bottoms and with vegetation as well as for sea floors.
Medium density neoprene for an optimum balance between compression resistance / ballast needs / buoyancy variation.
100% Ultra span© lining is very flexible and hydrodynamic to improve comfort, adaptation, and drying speed. Traditional micro-porous interior.
Armpit area without seams for optimal mobility and comfort.
Smooth-interior neoprene Aqua stop © system in the lower part of the jacket to minimize the entrance of water here and in the upper portion of the pants.
Bib-less pants for optimum comfort and rib cage expansion.
New oversized load-bearing area with graduated padding and durable, anti-slip, and anti-tear fabric. Power Tex© knee-shin, and elbow pads.
The head, wrists, and ankles feature a smooth-interior neoprene micro cuff finishing.
Riffe 3.5mm Vortex Camo Wetsuit