Riffe
Riffe 3 Atmosphere Torpedo Float w/adapter
Riffe 3 Atmosphere Torpedo
"Technically, an atmosphere is a unit of pressure based on the average atmospheric pressure at sea level. Our 2 Atmosphere float is capable of optimal performance and lift for up to 2 atmospheres below sea level before lift begins to diminish. So, we decided to rename our 2 Atmosphere float the 3 Atmosphere float to do it justice. There are no design changes to this tried and true design, just the name."
Riffe 3 Atmosphere Torpedo Float
The RIFFE 3 Atmosphere Torpedo Float was designed to maintain lift up to 95lbs at a depth of 66ft (approx216m). This is done by pressurizing the float up to 25lbs PSI. The float is constructed of the strongest light weight material available and will fold up to (14" x 14" x 2" = 4lbs) for easy transporting. The outside material is constructed of 22 oz. heavy duty vinyl coated nylon with a 320lbs/sq. tear strength.
The 3 Atmosphere Torpedo Float comes standard with a side zipper for access to the inner replaceable urethane bladder. The zipper is reinforced with (5) five 1 ½" buckled nylon straps. The bladder has a reinforced 1000lb Denier Cordova sleeve with nylon belted straps.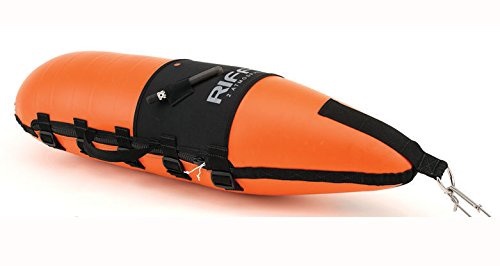 Riffe 3 Atmosphere Torpedo
Features:
* Two side handles and one rear handle
* Comes with emergency Flair holder
* Set up to use a flag & ballast weight of 3lbs lead shot (flag & weight not included)
* Comes standard with Air Pressure Gauge
* BC Air Blower with adapters available for most manufacturers
* Compressor or scuba tank is the preferred filling method
* May be filled by tyre pump
* Safety orange color
Riffe 3 Atmosphere Torpedo