Dive & Fish
Riffe Euro Series Extended Butt
Riffe Euro Extended Butt Series Speargun
Completely new design, the new RIFFE Euro Series spearguns were designed for all levels of divers. Manufactured by RIFFE with the new MAG-TRACK (patent pending), a magnetic track for ease of loading and free-shafting. The low-profile stocks are made with 5 vertical laminated teak strips and bolted front muzzle for added strength. Models E-90X & E-100X have a full radius barrel. Longer models, E-110X, E-120X & E-130X have a corner rounded barrel for more beam strength.

Features:
Low-Profile Trigger Mechanism with added silencer
Side rotating spring loaded Safety
Glass filled Nylon with over molded Soft Grip Handle
Rear Loading Pad - giving you full vision for aiming down spearshaft
Automatic side mounted Line Release
RIFFE Gorilla Rubber Power Bands with Dyneema wishbone line
RIFFE Euro Shaft 7.1mm
Accepts (2) 5/8" (16mm), (2) 3/4" (19mm) or (3) 9/16" (14mm) looped power bands
Designed to fit the RIFFE Horizontal Reel
Features of X series:
Same design as the standard Euro Series spearguns with added benefits.
Larger track, accepting up to 5/16" (8mm) diameter spearshafts, both European and Riffe square notch
Includes a 5 inch (12.7cm) rear extension for hip loading and aid when swinging gun
Includes a larger Coated Magnet for 5/16" shaft. (All Riffe Euro guns now come standard with large magnet)
EURO X Models are the ideal speargun for freeshafting featuring the RIFFE Mag-Track.
All models come standard with threaded stainless steel inserts for reel installation.
All models come with AMBER powerbands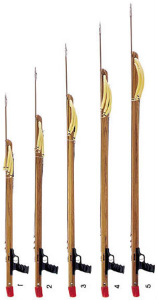 Riffe Euro Series Extended Butt Speargun