Riffe
Riffe Pelagi Tek 3.5mm 2-piece suit
Riffe Pelagi Tek 3.5mm 2-piece suit
The Riffe 3.5mm pelagi-tek camo wetsuit is perfect in tropical to cool waters.
The Riffe Pelagi-Tek digital camo wetsuits blend in perfectly when hunting in blue water and tropical water environments. The wetsuit is manufactured with Yamamoto 100% CR (Chloroprene) neoprene – grade 39 which is known as being ultra supple, while providing excellent warmth and comfort, even while in cool water temperatures. These manufacturing materials also have excellent heat retention properties as well as being quick drying. The neoprene has an Impermeaflex lamination with Riffe's pelagi-tek camo design which is ultra flexible making for an extremely comfortable wetsuit, even while worn over long dive times.
The wetsuit has a built on loading pad to make loading your speargun more comfortable on your chest and to minimise it slipping off your chest while loading. The built on hood prevents the hood from sliding up your neck exposing your neck to the sun and marine life as detachable hoods can do. All the stitching is glued and blind stitched so you do not have any lumpy seams inside your wetsuit rubbing on you throughout your dive. The 3.5mm 2piece wetsuit can be worn in tropical to cool temperature waters comfortably.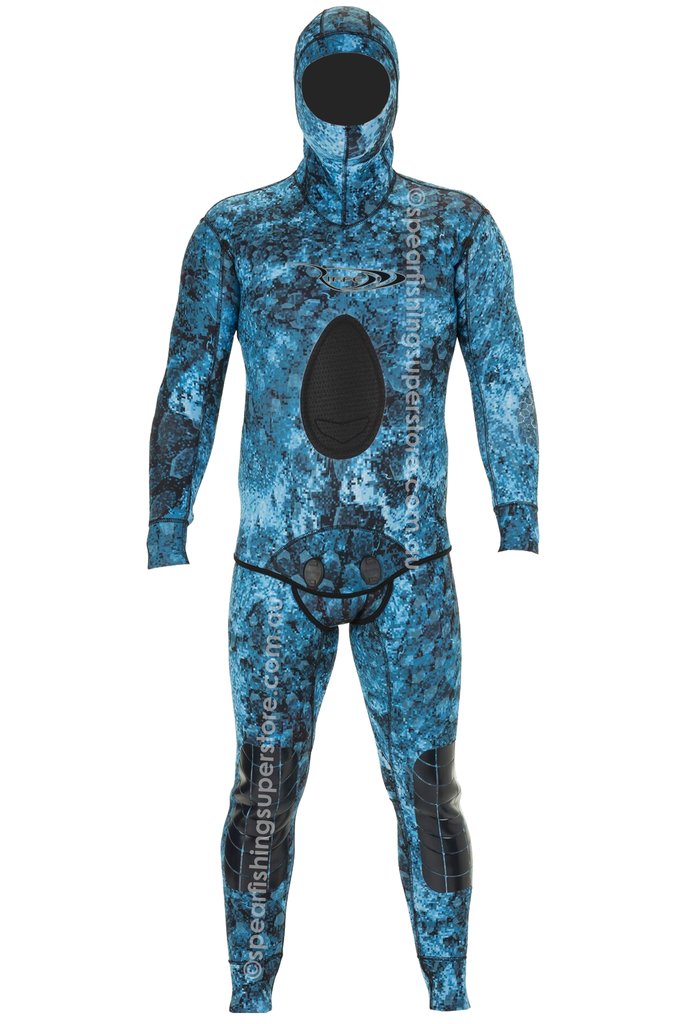 Abrasion-resistant high-density Polyurethane screened knee and elbow protection
Slip-resistant cushioned loading chest pad on Hooded Top
5mm high waist pant (non-titanium coated) – open cell
Glued and blind stitched seams for added protection
Open cell Japanese Yamamoto 100% CR Neoprene
Non-binding wrist/ankle seams for more flexibility
Face, wrist and ankle seals to prevent water entry
Vented hood promotes excess air release
Riffe Pelagi Tek 3.5mm 2-piece suit
RIFFE WARRANTY
We've Got You Covered.
All RIFFE Spearguns come with a warranty against defects in materials and workmanship under normal use conditions.
A 3 year warranty is placed on our mechanisms and laminated gun stocks for warpage and delamination (2 year warranty on mahogany spearguns). A 1 year warranty on mechanisms when commercially used. (Trigger mechanism may need to be replaced with excessive use.) Warranty applies to original owner/purchaser and is not transferable. 
Register Your Speargun
Make sure to register your speargun after purchase. This is required to initiate a warranty claim. Plus we've reunited many owners with their lost-at-sea spearguns by having this helpful information. 
Fill out our Warranty Registration Form HERE.
Riffe Pelagi Tek 3.5mm 2-piece suit
What's Not Covered
Normal wear and tear
Improper maintenance
Installation of component, parts or accessories not intended for or compatible with the speargun as sold
Damage or failure due to accident, misuse, abuse or neglect
First Things First
To initiate a warranty claim, fill out our Warranty Claim FormHERE.