Rob Allen
Rob Allen Samburu Railgun
Rob Allen Samburu Railgun
The Rob Allen Samburu Carbon Rail Gun is astounding new generation barrel is twice as strong as the previous model and is individually air brushed at the Rob Allen factory to create the amazing dual camo barrel that will easily blend into any hunting environment.
The Samburu barrels are built using a pull wound continuous process using 3 to 4 tons of tension. This design process allows the fibre loading to be maintained at a much higher level than in conventional mandrel wound tubes as used by other manufacturers. Only 100% carbon fibre is used at the highest possible loading, along with an integral rail further adding to the stiffness, the Rob Allen carbon rail barrels are without a doubt the best in the world. Each barrel is pressure tested twice, first with air immediately after the initial pull winding process and then secondly, after assembly in Rob Allen's hydraulic test chamber to the equivalent of 40m depth for one hour. The black glass reinforced nylon mechanism comes asåÊstandard with a stainless steel line release. Even the internal spigot and external shrouds that grip the barrel to avoid stress at the screw holes have been designed with carbon barrels in mind.
In addition, all Rob Allen Samburu Guns fromåÊthe 110cm model upwards have a muzzle brake weight fitted internally behind the muzzle which perfectly balances the gun when aiming and reduces muzzle lift and recoil on firing. The Rob Allen Samburu Rail Gun model is the premium railgun in production and it is available in 7 different sizes to suit every application. For this reason it is one of the most popularåÊspeargun choices for many Spearos who demand perfection without exception.
Features:
Samburu Carbon Barrel is twice as strong as previous carbon barrels.
Individually air brushed dual camo barrel comprising a green and blue camo finish.
Rob Allen's Next Generation Vecta 2 handle &  enhanced mechanism.
7.5mm double wire fin shaft engineered from ultra tough oil-quenched carbon alloy spring steel.
Each wire fin on shaft is rated to 350kg with the tip being tri-cut.
Ergonomically designed Loading Butt.
Open muzzle with twin 16mm blue Rob Allen rubbers.
1.8mm High Strength, abrasion resistant mono shooting line.
Stainless steel line release.
Integrated reel mount to suit Rob Allen vecta reel.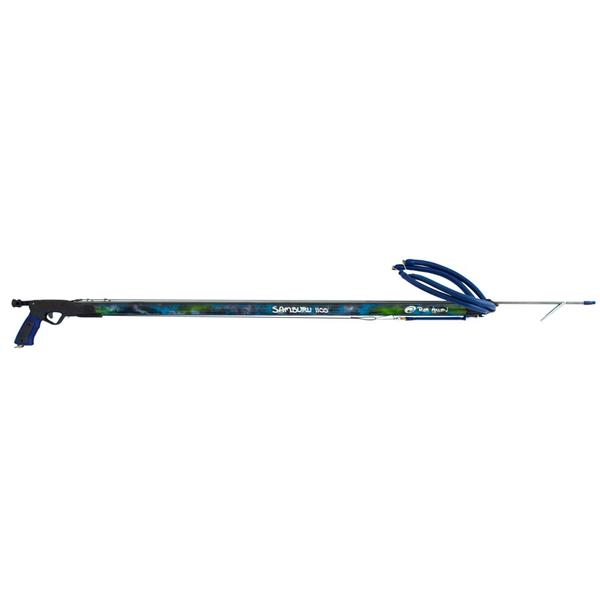 Rob Allen Samburu Railgun