Rob Allen
Rob Allen Scorpia Evo Fin
Rob Allen Scorpia Evo Fin
The Rob Allen Scorpia Fin is aimed to provide a fin with great functionality and practicality all at a low price. This fin is perfect for those who are just new to diving through to intermediate divers.
Some argue that this fin could be regarded as one of the best fitting fins on the market today due to its inclusion of extremely comfortable foot pocket constructed of a moulded rubber. In doing so, any over-flexing of the fin is prevented so that no power is lost in inefficient motion. Instead, power from the leg is directly transferred to the blade to provide more efficient forward propulsion.
The blade itself has been softened to limit stress on the legs. To counter for a loss in blade rigidity, a multitude of channels have been included down the length of the blade to ensure optimal water channelling and prevention of lateral slipping, ensuring that water is propelled directly along the blades length to the tip providing high power output. The length of the fins at 92cm means that this propulsion process displaces large volumes of water to produce speed with minimal energy. This efficient use of energy allows for better breath holding and more time at depth.
Features:
Moulded rubber foot pocket
Prevention of over-flexing
Softened blade
Multiple channels along the blade
92cm length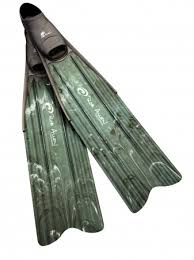 The Rob Allen Scorpia EVO Fin is the perfect spearfishing for a diver who is getting in to it and does not want to spend a fortune, yet still get great quality. It is one of the best fitting fins available in todays market due to the extremely comfortable foot pocket which is a moulded rubber. This has been engineered to prevent over flexing when being used which gives superior transmission of leg energy to the fin blade. The Rob Allen Scorpia Fin has a softer blade than many with channels all the way down the blade which gives optimum water transfer to give plenty of thrust in the water, yet is not too harsh on your legs. The cool green camouflage color is designed to blend you in to the environment so you can ideally get closer to fish without spooking them.
Care
Wash in fresh water after every use
Do not leave in direct sunlight
Store away in a safe 
Do not use harsh chemicals to clean
Do not walk when fins are on
Rob Allen Scorpia Evo Fin