Dive & Fish
Rob Allen Tie Line & Bungee Line (Per Metre)
Rob Allen Tie Line & Bungee Line (Per Metre)
The Rob Allen Tie Line is a flat braided Polyester Nylon line which has been specially manufactured and designed for performing the essential constrictor knot on your speargun rubbers. This highly popular Tie Line is used to safely secure wishbone bridle beads into bulk rubber and for use on bungees. Rob Allen Tie Line is highly sought after by spearos around the world due to its superior design, quality and durability which is second to none.
Rob Allen Tie Line is highly regarded as the best Constrictor Line available for bulk rubber knot tying on the market. Forged from the passionate and dedicated spearfishing power house Rob Allen, this Tie Line will not let you down when performance, quality and reliability are on the line with landing "once in a lifetime" trophy gamefish.
Manufactured from a flat braided Polyester Nylon, the Tie Line is designed to last and will not rot, fray, wear or diminish over time. Furthermore being created from synthetic materials, it will survive the harsh conditions of salty fishing environments for many years to come. Another major advantage of using Rob Allen Tie Line is that the flat braided Polyester Nylon bridal line is specifically designed to increase knot security on bridle wishbones after the knot tying process is complete. This adds a further level of knot security and peace of mind.
For spearos who like to make their own bungees, the Rob Allen Tie Line can also be used for the securing line that is cored directly into the centre of the bungee itself. This allows it to be used on Gun Bungees, Break Away Bungees and Line Bungees and because it's Rob Allen, you know it will stand up to the task. This gives passionate spearos supreme confidence knowing they are using only the best performing product on the market for completing this important task.
Rob Allen Tie Line & Bungee Line (Per Metre)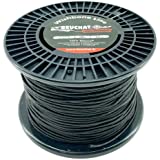 Rob Allen Tie Line