Salvimar
Salvimar Neo Mask Bk/bk
Salvimar Neo Mask Bk/bk
The Neo is a monoframe mask from Salvimar. It offers you a large field of vision and a low profile for easy clearing. It is the perfect mask for freediving and spearfishing, but you can also use it for scuba diving.
The Salvimar Neo Mask has a preformed nose pocket 3D design for your comfort and easy equalisation.
The silicone mask strap is micro adjustable, so you can comfortably fit the mask to your face and create a good seal. The lenses are made from tempered ultra-resistant glass.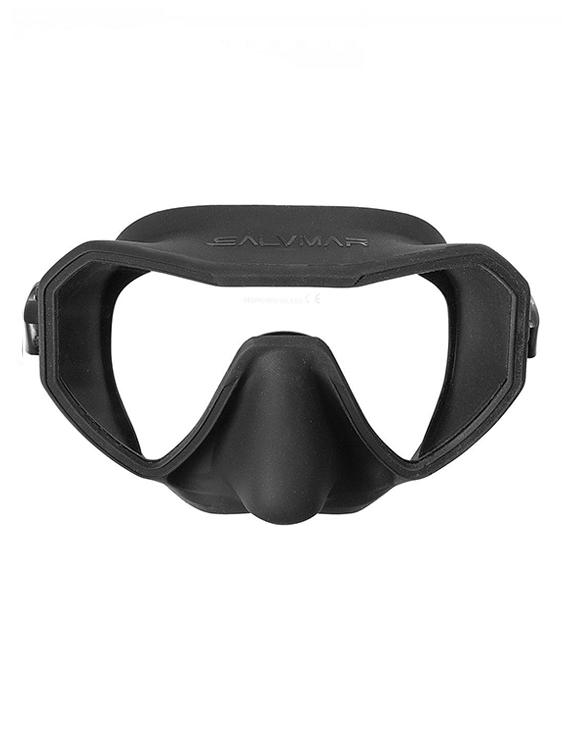 Salvimar Neo Mask is a durable single lens mask with a low internal volume which means your visual field when diving is larger as it won't be blocked by the sides of the frame. This makes the mask perfect for spearfishing as the diver is able to see more of their environment. This also means the mask is easy to clear and equalise as there is less water to displace. Your vision will be clearer than ever with this mask as the glass is ultra-resistant to scuffs and scratches and has been specifically tempered for better vision.
The mask also features a nose pocket which makes it easy to equalise, making it ideal for freediving and spearfishing. It also has an unmatched seal to the face as it features a soft-touch, anti-reflective silicone skirt with a double-feathered edge and split strap. It also has quick-adjust push-button buckles which mean you will be able to adjust the straps quickly and with ease even whilst wearing the mask.
Features:
Single Lens Mask
Large visual field
Nose pocket for easy equalising
Adjustable buckle with micro strap adjustment
Tempered ultra-resistant glass
Anti-reflective interior
Salvimar Neo Mask Bk/bk