SharkSkin
SHARKSKIN TITANIUM LONGPANTS CHILLPROOF MALE
SHARKSKIN TITANIUM CHILLPROOF LONGPANTS MALE
Chillproof Titanium (titanium far infrared) garments provide maximum warmth. This new fabric adds TiFIR technology to the original Chillproof fabric for even more warmth along with the associated health, performance and recovery benefits of far-infrared.
SHARKSKIN TITANIUM LONGPANTS CHILLPROOF A revolution in thermal protection providing all the properties of traditional Chillproof plus the added benefit of titanium nanotechnology that both captures and generates far infrared radiation to generate heat and provide regenerative benefits.
These TiFIR Chillproof pants are equally suitable teamed up with a top, under a drysuit, under dry pants, or by themselves as the ultimate in thermal wear. They have a high rear waist for comfort and warmth, provide protection from chaffing when dry, and peace of mind knowing that if you do get wet you will still be warm. Chillproof long pants can be worn in combination with all other Sharkskin garments.
Titanium garments are windproof, lightweight, neutrally buoyant and provide the warmth of a 4 to 5mm traditional wetsuit. Ditch your old wetsuit or layer for extra insulation in cold waters.
MENS AND WOMENS SIZING AVAILABLE
SHARKSKIN TITANIUM LONGPANTS CHILLPROOF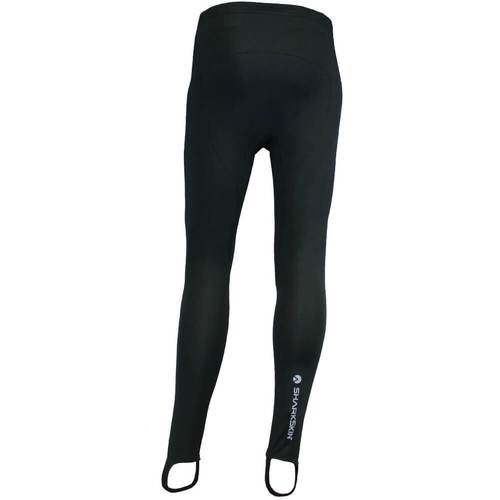 Technical Specifications
Designed to last
We source the world's most technically advanced materials, create the highest quality design and utilize the best manufacturing techniques to create garments that are built to last.
Eco Friendly
At SHARKSKIN we are passionate about watersports activities and we care about minimising our impact on the environment. We use biodegradable and compostable packaging bags, minimise waste in our manufacturing and design long lasting products. SHARKSKIN TITANIUM LONGPANTS CHILLPROOF
Sharkskin Performance Guarantee
SHARKSKIN garments come with a 2-year guarantee on workmanship. Excludes fading and degeneration as a result of excessive exposure to chlorine or sunlight. We guarantee SHARKSKIN will perform as advertised.
SHARKSKIN TITANIUM CHILLPROOF LONGPANTS MALE