Start Bundle
Sale price

$1,399.00
Regular price

$1,728.00
(/)
---
Cressi Start Scuba Set
The Cressi Start scuba set is an excellent buy for a diver wanting to purchase their own set of scuba gear. It comes with the Cressi Start BCD, Cressi AC2 1st Stage, Compact 2nd Stage, Compact 2nd stage octopus, and a pressure gauge. we recommend the Cressi Start Scuba Set for any beginner or somebody who would like an entry level set of gear.
Start BCD
The Cressi Start BCD is a heavy duty BCD, with excellent functionality and at a great price.
The BCD vest is constructed from an extremely rugged condura, in both 500 and 1000 denier "condura" which is an extremely rugged material. Condura is incredibly rugged, being very scratch and damage resistant. The BCD has rock solid construction, with high density plastic for all releases and D rings. The back plate is nicely padded and offers decent support, and it also features a durable carry handle on the top of the bcd. It has a standard 4-release design and a large padded cumber-band to assist in mid section support and weight distribution. It also has a large pocket on each side for all of your accessories.
The tank mounting system is a standard buckle and tank saver, and a mounting plate of high density plastic. The BCDs bladder is larger than average, and extends from the back to sides. This is great for a more entry level BCD as it can make staying vertical when on the surface much easier.
Cressi Start BCD Features:
Made in resistance 1000 Denier Cordura (outside panel) and 500 Denier (inside layer).
The Denier Nylon Cordura is harder than Nylon, and therefore more resistant to erosion caused by long-term friction and extends the duration of the welding.
The waist strap is independent of the air bladder. You can tighten the strap on the deflated jacket, without it tightening further when inflating.
The Inflator has a double air filtration system, and you can easily rinse the inflator to remove sand and other debris.
The backplate system is made by ultra-durable thermoplastic which is truly small and compact. It has a rubber damper help grip the tank, and a second tank strap can be added. A nylon locator strap is included to ensure proper tank positiong every time.
3 exhaust valves for buoyancy adjustment in any position.
2 large pockets cargo pockets with Velcro closure. On top of each pocket there is a compartment for holding the pressure gauge and the octopus.
4 technopolymer D-rings of 32mm available: 1 above, 1 at the bottom of each pocket.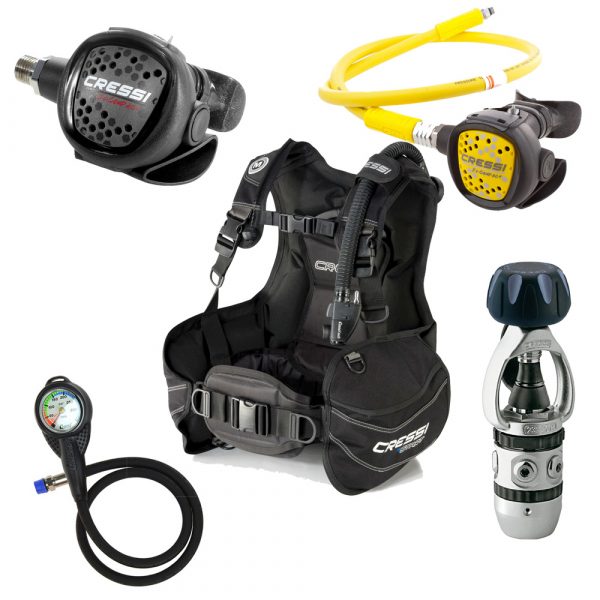 Cressi AC2 1st Stage
The Cressi AC2 1st Stage is simple, reliable, and robust, even nicknamed a "work mule". The AC2 is very low maintenance, and is known for it's surprisingly high level of performance.
It features a conical filter with large filtering capacity, which is great for preventing infiltration of particles from the tanks.  It also comes with a complete maintenance kit which includes very affordable spare parts.
Cressi AC2 1st Stage Features:
Administers the air flow at 2100 l/min with an intermediate pressure drop in intensive breathing (150 bar) 0.5-0.8 bar.
Featuring one high pressure port (HP) and four low pressure ports (LP).
Exterior LP regulation via Allen key, can assist managing adjustments and technical maintenance.
Weight: Int: 615 g
Cressi Compact 2nd Stage / Octopus
New ultra simplified monocoque second stage created from ABS, elastomer, and stainless steel. This regulator 2nd stage is quite small (6 cm in diameter), very light (153 g) and robust, designed and built to have a minimum number of components.
It is a smart buy due to its combination of performance, reliability, price and cost of maintenance. It is perfect for uses requiring maximum reliability and as a travel regulator, given its lightness.
Additionally it features a integrated purge button, between 80-400% larger than that of any other regulator on the market. This can help make purging quicker and easier, especially for beginning divers. It has cap system assembly by a 30º bayonet turn, assuring a very safe and simple assembly-disassembly, even while cleaning out sand on the beach, without the need of tools. Lastly, you'll notice reduced ageing due to usage thanks to the casing finish, achieved by applying a new technology in the mold that creates a variegated look on a micro-texture of rounded profiles.
TECHNICAL FEATURES 2ND STAGE
Downstream system.
Adjustable Venturi effect.
Patented anti-friction lever.
Big purge button.
Anti-scratch surface.
Bayonet-type cap holder with security lock.
Stainless steel cover.
Removable exhaust tee without tools.
Weight without hose: 4.9 oz / 140 g.
Take a look at the Cressi XS Compact Regulator 2nd stage instruction manual.
Pressure Gauge
An air gauge is a simple necesity for a dive to keep you aware of your air levels at any time during the dive. The Cressi Pressure Gauge has handy colour-coded air levels to help you keep on top of your air with a simple glance. The blue zone is from 350-200 bar, the green is 200-100 bar, which can show that you're getting low, and red is 100-50 bar, which means it's time to get organize to ascend to the surface as air is running out, and finally there is a luminescent orange which hopefully you will not see your air get to, as this is close to empty.
This gauge features a chrome plated brass casing for durability, and a rubber boot for grip when underwater. This boot is shock resistant and extremely durable. There's an attachment loop on the top of the gauge to allow you to clip it wherever you need it, and it also comes with a rubber high pressure hose measuring 75cm.
It is a compact yet modern looking gauge that's suitable to fit on any regulator.
Cressi Start Scuba Set
Start Bundle
Sale price

$1,399.00
Regular price

$1,728.00
Choose options