Yeti 10oz Wine Tumbler
Yeti 10oz Wine Tumbler, While most things are better outdoors, it's especially true of wine. But that simple pleasure demanded some serious engineering to ensure no pool deck, happy hour, or boat is hampered by broken glass. Our 10 oz. (295ml) Yeti 10oz Wine Tumbler is the YETI® answer to the wine glass and available in stainless steel and DuraCoat™ colour. Now, enjoying your wine in the wild is simultaneously hard core and laid back. 
 
Yeti 10oz Wine Tumbler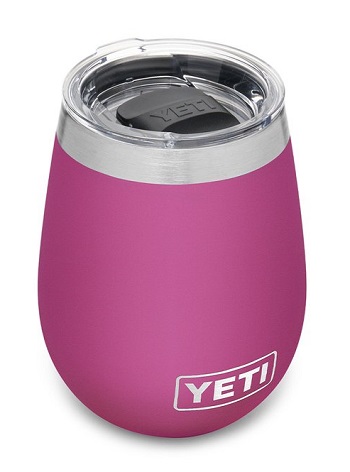 Please note: Our Rambler 10oz Wine Tumbler does not come with a lid.
YETI WARRANTY INFORMATION
We're dedicated to making the most durable coolers and drinkware on the planet. But sometimes the unexpected happens. So if anything is wrong with your YETI product, we'll work to make it right.
Any product(s) damaged in shipping (when ordered from YETI direct) or defective product(s) must be returned directly to YETI in the original box or adequate cardboard packaging, freight prepaid. The Return AuthoriSation Number (RMA#) must be included with the product.
Submit a warranty claim by advising the YETI product you are experiencing issues with and request a Warranty Request Form with us at 1300 289 384 or email anzcustomerservice@yeti.com.
LIMITED WARRANTY
We take pride in the products we make and warrant to the person who originally purchased the product ("you") that all YETI products will be free from defects in workmanship and materials for their applicable Warranty Period, subject to the below conditions.
Yeti 10oz Wine Tumbler
In order for your warranty claim to be approved, the following conditions must be met:
• You must have purchased the product from a YETI authorised dealer;
• You must provide proof as to the date of purchase from the YETI authorised dealer;
• You must return the product to YETI; and
• You must have used the product only as intended and in accordance with the product's care instructions.
If a defect occurs as the result of the Product's intended use according to the care instructions during the Warranty Period, we will repair or replace, at our discretion, the defective product or part. The warranty does not cover defects caused by third-party modifications, repairs, or replacement parts. Punctures, scratches, normal wear and tear, and the natural breakdown of colours and materials over extended time and use are not warranted. Any limited edition product still under warranty will be replaced at the discretion of YETI with the same size product in a different colour based on availability.
5-YEAR LIMITED WARRANTY
YETI Tundra® | YETI TANK® | YETI Roadie® | YETI ICE | YETI Rambler™ Series | YETI LoadOut™ | YETI Hondo™ | YETI Boomer™ Dog Bowl | Yeti 10oz Wine Tumbler
3-YEAR LIMITED WARRANTY