Yeti Bottle Opener Key
The YETI® Bottle Key is the ultimate wrench for opening your frosty beverage. Designed as a Class 2 Lever, a mechanical advantage is achieved by applying force about the fulcrum for easy cap removal (Physics 101). Stamped from 1/8" stainless steel.
ONLY AVAILABLE IN STORE, PLEASE CALL TO ORGANIZE PICK UP.
Yeti Bottle Opener Key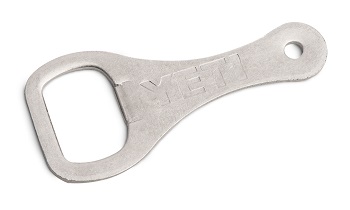 Yeti Bottle Opener Key
We're dedicated to making the most durable coolers and drinkware on the planet. But sometimes the unexpected happens. So if anything is wrong with your YETI product, we'll work to make it right.
Any product(s) damaged in shipping (when ordered from YETI direct) or defective product(s) must be returned directly to YETI in the original box or adequate cardboard packaging, freight prepaid.

5-YEAR LIMITED WARRANTY
YETI Tundra® | YETI TANK® | YETI Roadie® | YETI ICE | YETI Rambler™ Series | YETI LoadOut™ | YETI Trailhead Camp Chair™ | YETI Boomer™ Dog Bowl

3-YEAR LIMITED WARRANTY
YETI Hopper™ | YETI Panga™ | YETI Camino™ | YETI Sidekick Dry™ | YETI Crossroads™ | YETI Lowlands™ Blanket
HOW TO SUBMIT YOUR WARRANTY CLAIM
Submit a warranty claim by sending an email to the customer service team at anzcustomerservice@yeti.com. In this email, please advise the YETI product you are experiencing issues with and request a Warranty Form. If possible, please also provide the team with any images or videos that will help demonstrate the fault.

A YETI Outfitter will then work with you to gather more information about your warranty issue. If covered under warranty, you will then be given a prepaid label to return your product.

Once the warranty item is sent back to our warehouse, a solution will be arranged.
LIMITED WARRANTY
We take pride in the products we make and warrant to the person who originally purchased the product ("you") that all YETI products will be free from defects in workmanship and materials for their applicable Warranty Period, subject to the below conditions. Yeti Bottle Opener Key
In order for your warranty claim to be approved, the following conditions must be met:
You must have purchased the product from us directly, or a YETI authorised dealer;
You must provide proof of purchase
The faulty item must be returned
You must have used the product only as intended and in accordance with the product's care instructions