Aquatec
Aquatec LED Mini Headlight
Aquatec LED Mini Headlight
Super lightweight aluminium mask LED torch Powerful 60000 mcd 10cm long and weighs only 30g Perfect for attaching to any kind of masks
The Aquatec LED Mini Headlight is one of the most exciting new products to come along this season. The Aquatec LED Mini Headlight is possibly the most powerful dive torch, for its size and dimensions on the market today and has been especially designed to easily clip directly onto the side of your mask for perfect vision in any situation.
The Aquatec LED Mini Headlight provides you with the much necessary illumination of instruments and gear during night dives and poor lighting conditions. In addition, thanks to its impressive depth rating of 120m, you can confidently take it with you on just about any dive too. The Aquatec LED Mini Headlight provides the ideal balance of light so that you can easily see what you need without being over poweringly bright and blinding your poor old dive buddy when you happen to look in their direction.
This fantastic little LED dive light comes supplied with an innovative stainless steel mask attachment clip for easily fastening the light to your mask strap securely and you can also easily add it onto your BC pocket for multiple mounting options if so desired.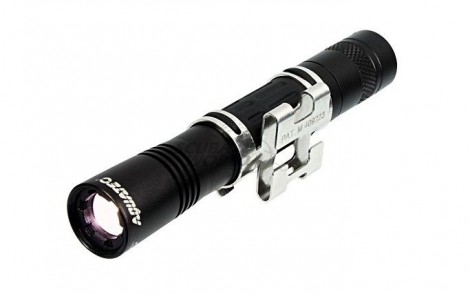 Aquatec LED Mini Headlight