Cressi
Cressi Gara Modular Fin
Cressi Gara Modular Fin
An interchangeable blade which is very lightweight and reactive and also well-adapted for the most demanding of free-diving use.
Features
Thanks to its specific and exclusive design, it's more propulsive when passing through the leg-kick, which gives an optimum return of the blade.
The foot-pocket is very comfortable and comes in a composite material : soft rubber around the foot arch, and a rigid part along the sides and traction surface.
It's ample fittings easily allows it to be worn with diving socks.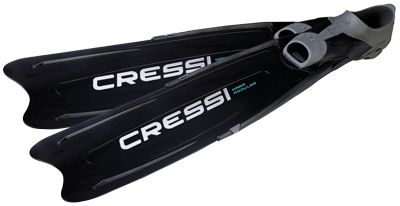 The Gara Modular long blade and foot pocket system makes this a perfect choice for deep free diving and spearfishing divers of all levels. The interchangeable blade allows the diver to replace the blade for specific diving situations which makes this fin perfect to grow with as the diver's skill level increases. Any of Cressi's long fibreglass or carbon fibre blades can be interchange in minutes without any modifications. The self-adjusting foot pocket is constructed with the most modern multi-compound joining process to deliver a foot pocket that can offer comfort and suppleness around the foot.
The angle of the blade provides the ultimate in efficiency during the kick cycle requiring less-energy to load the blade. This fin can be comfortably worn with or without neoprene socks. The Gara Modular fin is very lightweight and reactive, and also well adapted for the most demanding diving use. The blade is made from a special reactive thermo plastic, which is extremely light, and has a blade snap that progressively charges during the upward stride reacting like a spring at the exact moment the stride is inverted.
This development in fin construction gives the diver increased thrust required to keep up with their prey. A soft elastomer foot pocket anatomically wraps around the foot, surrounding it with a comfortable bite that guarantees perfect transmission of the leg fin thrust. A solid copolymer hardens some critical zones of the foot pocket and extend along the sides of the pocket in two lateral stringers that go halfway down the blade, assisted by special raised bands on the bottom of the blade, the stringers function is to regulate and harmonise the bending of the blade, at the same time protecting it from shocks and abrasions.
Cressi Gara Modular Fin