Yeti Panga 28 Submersible Backpack
Yeti Panga 28 Submersible Backpack
The Panga™ Backpack is an airtight citadel merging the durability of the Panga Duffel with a tried-and-true backpack design. Its ergonomic DryHaul™ Shoulder Straps offer extra carrying comfort, while the removable chest straps and waist belt provide added stability and security while you trek. And no need to carry it over your head while you wade or blink an eye if left out in the rain, because it's a 100% waterproof gear fortress equipped to outperform any other backpack out there.
 
Yeti Panga 28 Submersible Backpack
Hydrolok zipper to ensure water stays out
U-Dock terminal end to the zipper to ensure an airtight seal
Thickskin shell that is laminated high-density nylon is nearly impenetrable to nature's assaults
Metallock hardware that's tough as nails and simple as rocks
Stowaway mesh pocket
Quick grab lash points for when you need to get up and go
Interior sleeve
Dry haul straps that are comfortable and durable
Removable chest strap and waist belt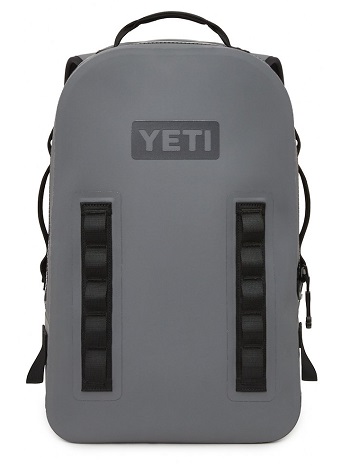 Outside 50.8 x 31.8 x 17.8cm
Empty weight 1.8 kgs

HYDROLOK™ ZIPPER
Makes sure water stays out so your gear stays bone-dry, no matter how torrential it gets.
U-DOCK™
The terminal end of your HydroLok Zipper that ensures a completely airtight seal.
THICKSKIN™ SHELL
Our ThickSkin Shell is made of high-density nylon and thick TPU lamination to be puncture and abrasion resistant.
ADDITIONAL FEATURES
METALLOCK™ HARDWARE
Tough-as-nails, simple-as-rocks.
QUICKGRAB™ LASH POINTS
Designed for when you need to get up and go at a moment's notice.
DRYHAUL™ STRAPS
The DryHaul Straps are meant to be as durable as they are comfortable, complete with custom set hardware.
STOWAWAY MESH POCKET
An easy-to-access internal mesh pocket that keeps your valuables safe, dry, and tucked away.
INTERIOR SLEEVE
Extra organization for your on-the-go essentials.
REMOVABLE CHEST STRAP & WAIST BELT
For added stability and security while you trek.
ONLY AVAILABLE IN STORE, PLEASE CALL TO ORGANIZE PICK UP.
Yeti Panga 28 Submersible Backpack